For Immediate Release:
October 2, 2023
Contact:
Brittney Williams 202-483-7382
Greenville, N.C. – Following Earth's hottest summer on record, flooding brought by Tropical Storm Ophelia, and reports that El Niño may bring an especially cold, wet winter to North Carolina, PETA is rushing out a new video to push state leaders to take emergency legislative action in order to protect dogs who are left penned or tethered outdoors 24/7.
The new spot shows just a few of the at-risk dogs PETA's fieldworkers found suffering in this summer's historic heat, desperate for water and a scrap of shade. Dog owners left dogs tied up and/or trapped in pens outside, unable to escape Ophelia's rising floodwaters—and many told PETA fieldworkers that they weren't even going to go outside to check on the animals because they didn't want to get wet. This winter, these dogs and countless others like them will still be kept tethered outside—including during El Niño, which is anticipated to bring snow and possible flooding—yet legislators recently failed to act on three bipartisan, PETA-supported state bills that would have provided lifesaving measures for dogs whose entire lives are spent chained outdoors in all weather extremes.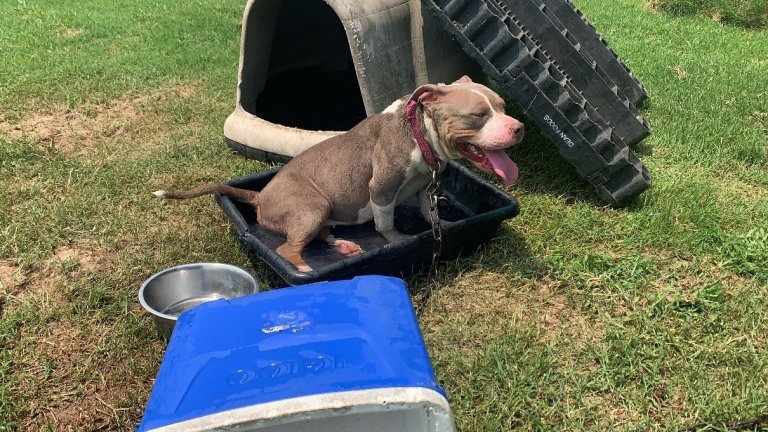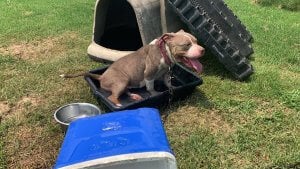 Duchess, chained outdoors, pants in the summer heat. Photo: PETA
"Whether they're panting in the summer heat, struggling to keep their heads above water, or shivering in the winter snow, dogs kept chained outdoors get no respite from the extreme weather that now pummels North Carolina year-round," says PETA Senior Vice President Daphna Nachminovitch. "Enough is enough. PETA joins compassionate North Carolinians in calling on state legislators to pass an emergency ban on tethering dogs outdoors during storms, hurricanes, tornadoes, and temperatures below 32 degrees or above 85 degrees."
PETA's public service announcement will air on WITN-TV starting on Monday, October 2 through Friday, October 6.
PETA—whose motto reads, in part, that "animals are not ours to abuse in any way"—opposes speciesism, a human-supremacist worldview. For more information on PETA's investigative newsgathering and reporting, please visit PETA.org, listen to The PETA Podcast, or follow the group on X (formerly Twitter), Facebook, or Instagram.