For Immediate Release:
September 29, 2023
Contact:
Kendall Davis 202-483-7382
Queens, N.Y. – PETA supporters will unfurl a "Cruelty Doesn't Fly" banner in front of EGYPTAIR at John F. Kennedy (JFK) International Airport tomorrow following reports that the airline is shipping hundreds of endangered long-tailed macaques destined for laboratory experimentation despite the company's previous ban on the practice and concerns about the spread of tuberculosis (TB) and other diseases.
When:    September 30 at 4:30 p.m.
Where:    EGYPTAIR Departures, JFK International Airport (Terminal 1), Queens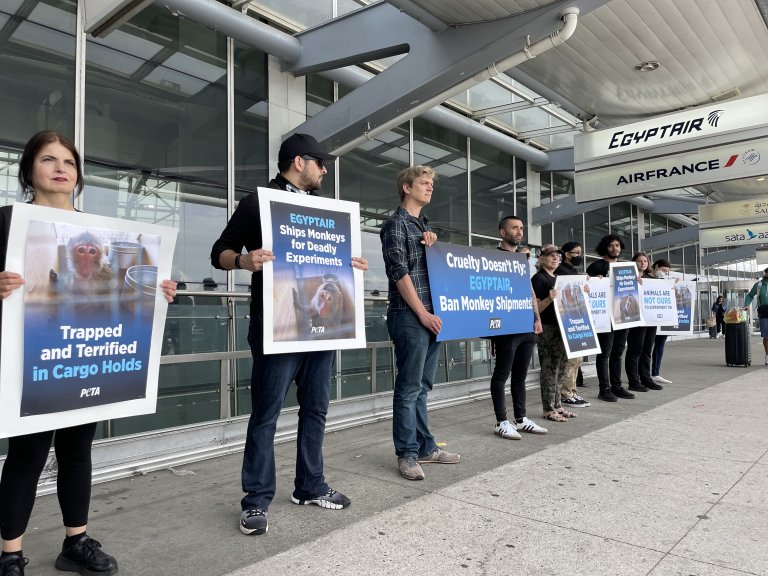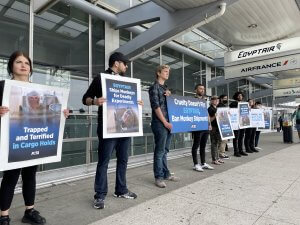 The animals are reportedly being shipped from Mauritius, an island nation more than 9,000 miles away, despite a current TB outbreak among monkeys there. PETA recently uncovered documents showing that monkeys of Mauritian origin wound up in a Michigan laboratory, where they tested positive for TB, prompting a state investigation.
"EGYPTAIR is putting these monkeys through hell and risking public health," says PETA primate scientist Dr. Lisa Jones-Engel. "The airline needs to wash its hands of this dirty business immediately."­
Monkeys in Mauritius are often abducted from forests or bred on squalid farms. Those who survive illness and injury are packed into small crates and locked inside EGYPTAIR's dark cargo holds on the first part of their days-long journey before they're trucked to laboratories where they'll be poisoned, mutilated, and killed.
PETA—whose motto reads, in part, that "animals are not ours to experiment on"—opposes speciesism, a human-supremacist worldview.
For more information about PETA's investigative newsgathering and reporting, please visit PETA.org, listen to The PETA Podcast, or follow the group on X (formerly Twitter), Facebook, or Instagram.