For Immediate Release:
October 20, 2023
Contact:
David Perle 202-483-7382
Anchorage, Alaska – After hearing from PETA and more than 60,000 concerned dog defenders, trade association American Pistachio Growers pulled its sponsorship of Iditarod champion Dallas Seavey, who has raced dogs who have tested positive for opioids, operates a kennel that was accused of killing dogs who didn't make the grade, and owns property where a whistleblower reported finding dying puppies.
Seavey and his father, Mitch, whose own kennel was implicated in an undercover PETA investigation, have gone on the record calling dogs "fur-covered garbage disposal[s]" and describing many abuses, including withholding food, hitting and kicking the dogs, and cutting off their dewclaws without any painkillers.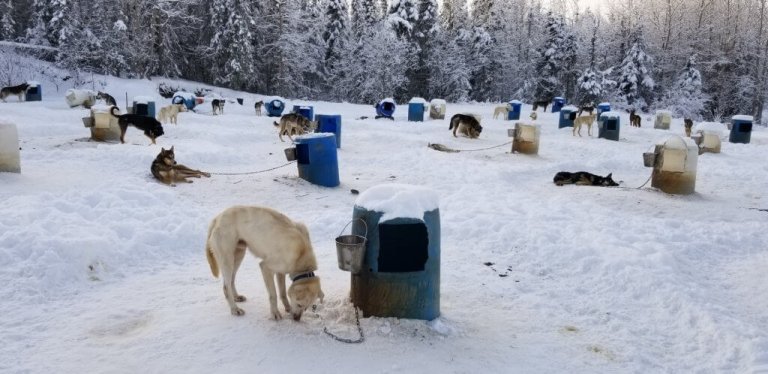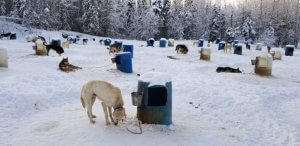 Dogs are chained outside at Mitch Seavey's kennel. Photo: PETA
"American Pistachio Growers did the right thing in ditching Dallas Seavey, a callous abuser who has forced dogs to run until their paws bled and chains them outside alone on snow and ice," says PETA Executive Vice President Tracy Reiman. "PETA is calling on organizations still supporting the Iditarod, including Liberty Media subsidiary GCI, to take note and follow suit."
Dogs in the Iditarod are forced to run about four marathons a day for up to two weeks through snow, ice, and wind. More than 150 dogs have died in the Iditarod since it began, with aspiration pneumonia (caused by inhaling their own vomit) the number one cause of death. This official death toll doesn't include countless others who were killed simply because they weren't fast enough or who died during the off-season while chained to dilapidated boxes or plastic barrels in the bitter cold. During this year's race, approximately 175 dogs were pulled off the trail because of exhaustion, illness, injury, or other causes, forcing the remaining ones to work even harder to pull the mushers.
American Pistachio Growers joins ExxonMobil, Nutanix, Millennium Hotels and Resorts, Cue Health, Jack Daniel's, Coca-Cola, Wells Fargo, Alaska Airlines, and dozens of others that have cut ties with the Iditarod or Iditarod-affiliated mushers.
PETA—whose motto reads, in part, that "animals are not ours to use for entertainment"—opposes speciesism, a human-supremacist worldview. For more information on PETA's investigative newsgathering and reporting, please visit PETA.org, listen to The PETA Podcast, or follow the group on X (formerly Twitter), Facebook, or Instagram.