For Immediate Release:
October 20, 2023
Contact:
Brittney Williams 202-483-7382
Houston – On Tuesday, passersby in downtown Houston will be in for an eyeful as PETA supporters brandishing buckets proclaiming, "Leather Is a Dirty Business," will dump black sludge all over themselves in a bid to push bystanders to stop purchasing leather items. The action is part of PETA's campaign highlighting the environmental devastation caused by the leather industry and urging retailers and consumers to steer clear of leather and all other animal-derived materials.
When:    Tuesday, October 24, 12 noon
Where:    Outside Houston Center, 1299 McKinney St. (near the intersection with Caroline Street), Houston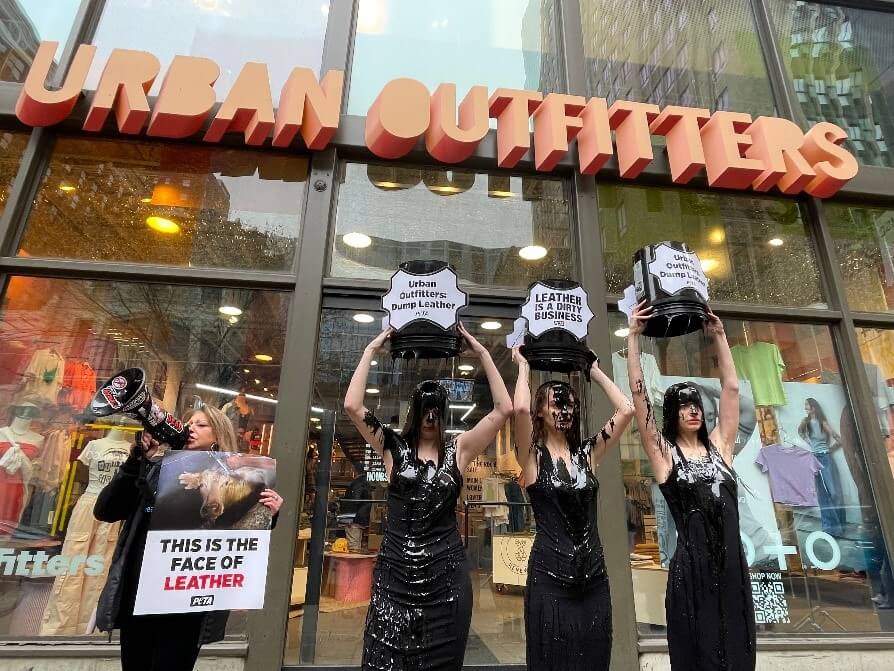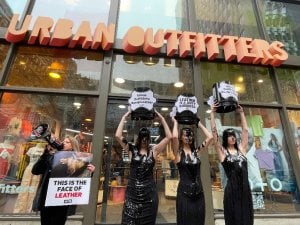 PETA supporters cover themselves in black sludge outside an Urban Outfitters store. Photo: PETA
"Cows and calves lead short, miserable lives for leather bags and shoes, which require enormous amounts of energy and dangerous chemicals to produce," says PETA Executive Vice President Tracy Reiman. "PETA is calling on everyone to dump leather and switch to animal- and planet-friendly vegan materials."
Cows used for leather are castrated and branded and their tails are cut off—all without painkillers—before they're violently killed. Leather production also destroys the planet: Animal agriculture, which includes the leather industry, is responsible for nearly one-fifth of all human-induced greenhouse gas emissions, and turning skin into leather requires significant energy and dangerous chemicals, including formaldehyde, coal-tar derivatives, and cyanide-based oils, dyes, and finishes. Sustainable vegan leather can be made from prickly pear cactus, mushrooms, apples, pineapples, and other innovative materials.
PETA—whose motto reads, in part, that "animals are not ours to wear"—opposes speciesism, a human-supremacist worldview.
For more information, please visit PETA.org, listen to The PETA Podcast, or follow the group on X (formerly Twitter), Facebook, or Instagram.