For Immediate Release:
August 10, 2021
Contact:
Megan Wiltsie 202-483-7382
Norfolk, Va. – On the heels of the United Nations (U.N) climate report issued this month, which warns that immediate widespread reductions in greenhouse-gas emissions must take place to forestall a "code red for humanity," PETA has been given the funds to distribute 10,000 Methane Offset Starter Kits to some of the most climate change-vulnerable cities in the U.S. so that people can take personal action now. Because the U.N. has identified animal-based agriculture as a leading cause of greenhouse-gas emissions, the shelf-stable kits contain a block of tofu, seeds to grow soybeans (100 calories of soybeans have 13 grams more protein than 100 calories of beef), nondairy creamer, recipes, and PETA's vegan starter kit—enough to start anyone on the road to environmentally positive living and healthy, humane eating.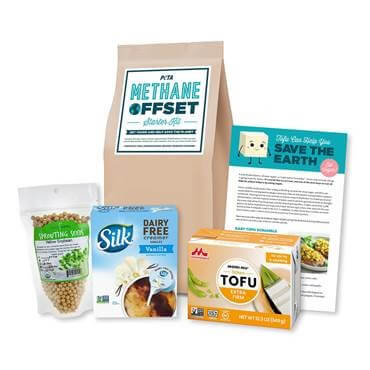 "The U.N. report, like the one before it, shows that human diets are a major source of greenhouse gases because of belching animals and deforestation caused by growing crops to feed them," says PETA President Ingrid Newkirk. "PETA's Methane Offset Starter Kit shows how simple it can be to switch to vegan meals now, because the Earth can't wait any longer."
The U.N. has reported that a global shift to vegan eating is required to combat the worst effects of climate change, with animal agriculture alone responsible for nearly one-fifth of all human-induced greenhouse-gas emissions. Clearing land to raise animals and grow crops to feed them is a leading cause of deforestation, including in the Amazon, and animal agriculture uses a massive amount of water, contributing to droughts and the spread of wildfires.
The cities receiving the kits include Corpus Christi, Texas, and Jacksonville, Florida, both expected to face increased flooding; Charleston, South Carolina, where experts predict hotter days, more rain, and more floods; and Tucson, Arizona, where hotter weather is expected to reduce dwindling groundwater supplies. PETA is also shipping the kits to San Jose, California, which is experiencing more wildfires; Seattle, which just faced record heat; and Sacramento, California, which is currently suffering from smoke from the Dixie fire, the second-largest forest fire in that state's history.
PETA—whose motto reads, in part, that "animals are not ours to eat or abuse in any other way"—opposes speciesism, a human-supremacist worldview. For more information, please visit PETA.org or follow the group on Twitter, Facebook, or Instagram.