For Immediate Release:
August 10, 2021
Contact:
Nicole Meyer 202-483-7382
Niles, Ohio – A Compassionate Business Award is on its way from PETA to locally based Cafaro Company for installing warning signs at its shopping centers alerting people to the dangers of leaving animals or children in parked cars. The shopping center development and management company decided to design and place the signs at its dozens of properties in 10 states (and on social media) following discussions with PETA.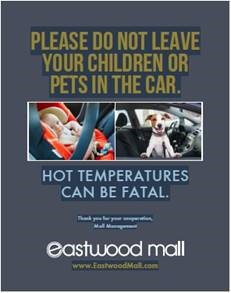 "Temperatures inside a parked car can reach deadly heights in just minutes, and an unexpected delay can turn a 'quick errand' into a tragedy for a dog or child left behind," says PETA Executive Vice President Tracy Reiman. "By answering PETA's call for warning signs, Cafaro is helping to prevent vulnerable family members from enduring terrible heatstroke deaths."
This summer, the heat-related deaths of 28 dogs have already made the news—and countless more have suffered and died out of the public eye. Anyone who sees a dog or a child in a parked vehicle should take immediate action: Write down the color, make, model, and license plate number, and rush to have nearby stores page the owner of the car—if the owner can't be found, call the local humane authorities or the police. And if they're unresponsive, do whatever it takes to save a life. PETA offers an emergency window-breaking hammer for intervening in life-or-death situations.
Cafaro will receive a framed certificate and a box of delicious vegan chocolates. It joins other leading property management companies as well as Albertsons, CVS, and Walmart in implementing the warnings.
PETA—whose motto reads, in part, that "animals are not ours to abuse in any way"—opposes speciesism, a human-supremacist worldview. For more information, please visit PETA.org or follow the group on Twitter, Facebook, or Instagram.