Published by .
Tattoos can be wonderful forms of self-expression and symbols of friendship and can make our bodies into living canvases. However, some images should never have left the tattoo gun in the first place. Hunting- and fishing-themed tattoos are pretty awful—just like killing defenseless animals in the name of "sport" or to "control the wildlife population," which isn't even necessary. Here are some of the Internet's worst hunting- and fishing-themed tattoos:
This tattoo that helps Chad S. remember his name:

Because nothing says, "Nice to meet you. My name is …," like a sharp hook used for violently piercing the mouths of fish.
This tattoo that has nice colors, nice lines—wait … is that a dead deer?
I hate it when a portrayal of murder ruins a perfectly OK tattoo.
This tattoo just missed the mark:

We would totally support this tattoo if we could change "slaughter" to "befriend" and "eat" to "respect."
This weirdly specific tattoo:
Because it's important to distinguish in what way you slaughter animals, especially when the announcement appears above your nipple.
One of these words is not like the other:
Happy. Rainbows. Murder. Wait—what?
This "true sportsman":

Waiting for a doe to wander under you as you sit in a tree stand so that you can kill her doesn't make you a "true sportsman." It just makes you truly awful.
This tattoo that tells us the meaning of love:
"What does love mean to you?" "Sharp fish hooks and dismembered deer parts … just off the top of my head."
This horrifying tattoo of a weapon:

You can read all about how steel-jaw traps torture animals here.
This one, where we can kind of see something:
Yep, there's totally a hunter in there. We liked it better when we couldn't tell what it was.
This tattoo is what nightmares are made of:
Did anyone tell him that tattoos are forever? Gross.
Hunting Is Killing
Once upon a time (like, prehistoric times), hunting may have been necessary for survival—or not. But most hunters today stalk and kill animals just for the thrill of it. This tears animal families apart, orphans babies, and leaves many victims to suffer for days when hunters injure but fail to kill animals. In this day and age, hunting is completely unnecessary—just like these tattoos.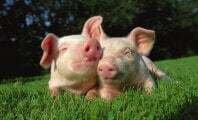 Order Your FREE Vegan Starter Kit