Published by .
The following article was written by Sunny and originally appeared on peta2.
Youth Empowered Action (YEA) Camp is a cool, unique summer leadership program for 12- to 17-year-olds who want to make a difference in the world. It's a week-long sleep-away program that's designed to be both fun and inspiring.
At YEA, campers choose an issue of importance to them (e.g., animal rights, climate change, racism, homophobia, etc.), and they build the knowledge, skills, confidence, and community to take action on that issue once they get home. With YEA's support, many have gone on to start school clubs, plan fundraisers for nonprofits, organize a call-in to Congress, and attend hearings to comment on important community issues.
One of the coolest features of this summer camp is that all the food served is vegan! If I could hop in a time machine and zip back to my early teens, I would so be campin' it up vegan-style!
To apply and get all the what-when-where details about YEA's vegan summer camp, click here.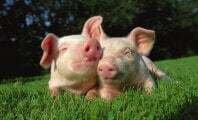 Order Your FREE Vegan Starter Kit