Published by .
PETA has scoured the country and ranked the most vegetarian-friendly Minor League ballparks. We're talking about serious eats here—way more than just popcorn and peanuts.
So … who's on first? Let's get to the list to find out:

The Erie SeaWolves' stadium is one of several making their debut on PETA's list this year. Be warned, veterans: The rookie competition is tight! From veggie burgers to made-to-order burrito bowls, health-conscious and animal-friendly baseball fans have something to cheer about.
The home of the Blue Wahoos is also making its first appearance on our list this year. At this stadium, you can get black bean burgers, veggie sushi rolls, made-to-order fruit smoothies, and assorted salads, so be sure to stock up during the seventh-inning stretch.
The Biloxi Shuckers' ballpark is another newbie on PETA's list. You can find a lot of tasty vegan fare throughout the stadium, including spiced black bean burgers, veggie dogs, and other summertime treats. Hey, with a name like "Shuckers," I wouldn't be surprised if you could also find an ear or two of corn.
Fans won't go hungry when they're cheering on the Tulsa Drillers—or the opposing team—at ONEOK Field! It offers veggie dogs, made-to-order vegetarian Asian salads, and plenty of tasty vegetarian snacks at the concession stands. Group parties can also get cilantro rice, a black bean and corn medley, cinnamon chips, and more. There are even vegetarian chicken tenders, black bean burgers, and other meat-free meals on the catering menu.
It was a tight race, but New Britain Stadium, home of the New Britain Rock Cats, edged out all other parks to win the top spot on PETA's 2015 list of vegetarian-friendly Minor League stadiums. New Britain Stadium had some stiff competition but came out as the MVP this year!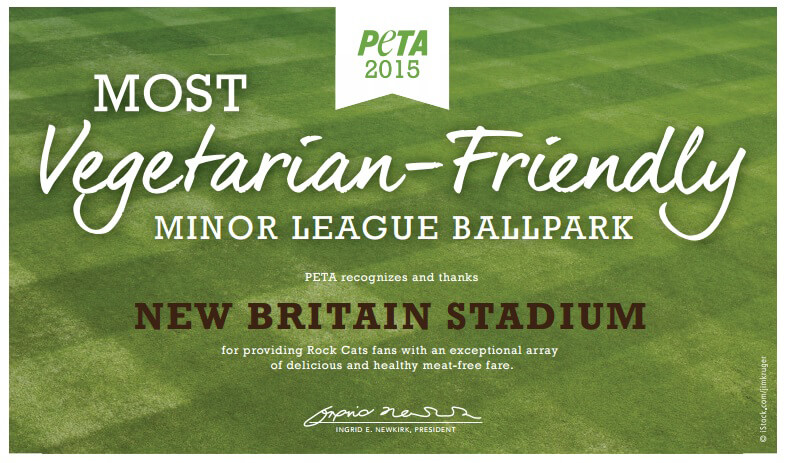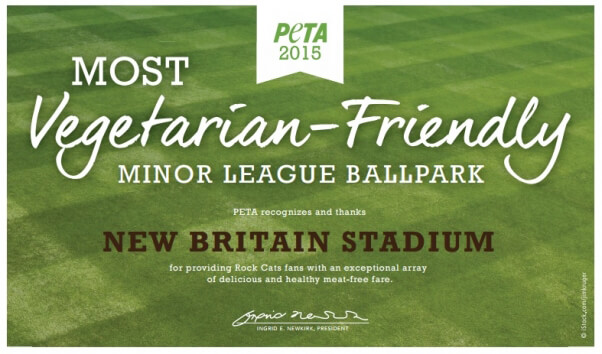 There's no need to eat animals when you can get vegetarian hot dogs and hamburgers, veggie wraps, fresh fruit, and vegetable crudités. And, of course, Cracker Jacks! Rock on, Rock Cats!
You've seen our standings. Now let us know what your scorecard would look like if you were keeping score. 
Making PETA's list of the Top Vegetarian-Friendly Minor League Ballparks is a major honor. If your local ballpark didn't win this year, urge the park's managers to offer more vegan fare so that they can make a run for first place next season.
And share this post with your friends, family, and followers today.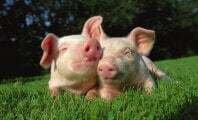 Order Your FREE Vegan Starter Kit