Published by .
Why settle for popcorn and peanuts when you can score vegan cheesesteak, vegetable sushi, black-bean burgers, veggie dogs, and other fantastic plant-based fare while you're watching your favorite players round the bases?
Each year, PETA assesses the vegan and vegetarian options at every major league stadium and ranks the 10 most vegetarian-friendly ballparks. The American League may have bested the National League in this year's All-Star Game, but the National League stadiums have the edge on PETA's scorecard. There's even a new champion this year.
Ready to play ball? Let's go to the list:
U.S. Cellular Field comes in at number 10 on our list, with protein-packed vegan hot dogs, veggie burgers, and vegan summer vegetable and tofu flatbread that will help compassionate Chicago White Sox fans get as strong as slugger José Abreu. The Pale Hose have proved themselves contenders in our rankings, clinching a spot after finishing with honorable mentions for four of the past five years.
Fenway Park's new vegan Fenway Farms kale salad, housemade black-bean and quinoa burgers, and fried apples are catering to the demand of fans who crave delicious plant-based food. The Fenway faithful are sure to enjoy watching the versatile Brock Holt while eating the stadium's new delicious mushroom and quinoa cakes.
Batters love Coors Field, and now compassionate fans love it as well, as it finishes eighth in our rankings. Delicious plant-based fare like the ballpark's vegan loaded baked potato from Blue Moon Brewing Company and fried risotto balls is at least giving Colorado Rockies' fans one reason to fill the seats. We hope Nolan Arenado will lead the team to a higher place in the standings next year, and perhaps Coors Field will secure an even higher spot on our 2016 list.
After a third-place finish last year, the Pittsburgh Pirates' PNC Park lands at number seven. Pirates fans who love delicious, healthy, cruelty-free food mow down the stadium's veggie rolls and veggie burgers like Gerrit Cole mows down hitters.
AT&T Park comes in at number six, thanks to its vegan Field Roast frankfurters and hand-formed burgers, among other delicious cruelty-free foods. Compassionate fans can chow down on vegan portobello mushroom sandwiches and potstickers at AT&T Park faster than Madison Bumgarner chugs a post-championship beverage.
What could be better than watching Matt Harvey, Jacob deGrom, and the New York Mets' other great young pitchers go to work? How about enjoying their dominance while eating vegan pizza, vegan Mac & Cheese Frites, and vegan El Verano Taqueria tacos at Citi Field? The stadium comes in at number five after finishing fourth last year, but it's looking like it'll be a contender for a long time, just as the Mets will likely be.
Petco Park is known as a pitchers' park, but it should really be better known as a vegetarian-friendly park. The San Diego Padres' revamped squad has been struggling more than expected this year, but the team can take solace in the fact that Petco Park is ranked number four after missing the cut last year. Compassionate fans can enjoy veggie hot dogs, veggie burgers, and vegan bean burritos while watching Tyson Ross and James Shields send players back to the dugout.
Nationals Park comes in third on our list after top-five showings for the past two years. Its vegan Philly cheesesteak and vegan chili from Ben's Chili Bowl have helped propel the stadium in our rankings, just as MVP and Cy Young frontrunners Bryce Harper and Max Scherzer, respectively, have led the Washington Nationals in the standings.
It's been a rebuilding year for the Philadelphia Phillies, but the same can't be said for Citizens Bank Park. A perennial contender on our list, it takes the runner-up spot for the second straight year, thanks to its new vegan wild mushroom and tofu cheesesteak and its new three-bean vegetarian chili. We're all looking forward to seeing Maikel Franco's bright future as well as where the ballpark winds up in our rankings next year.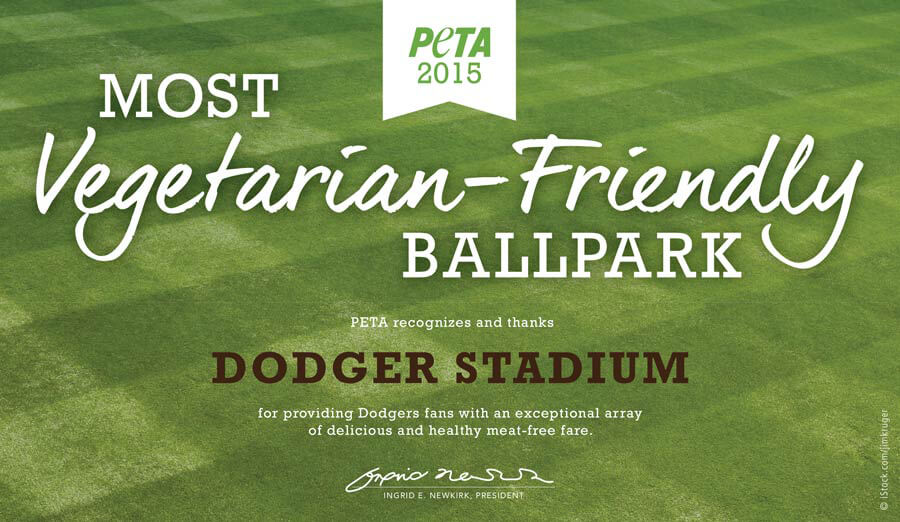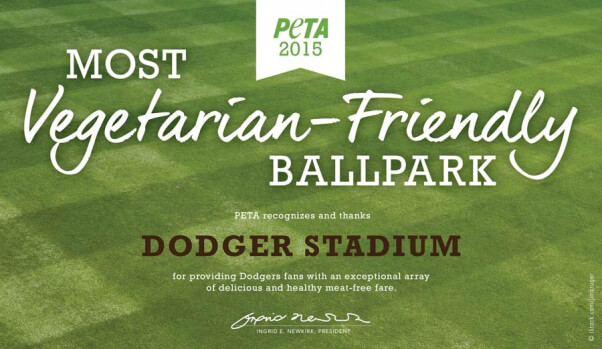 Is it a coincidence that the Los Angeles Dodgers are first in the National League West and their home, Dodger Stadium, tops our list of vegetarian-friendly ballparks? Clayton Kershaw and Zack Greinke are both aces, as are Dodger Stadium's delicious vegan nachos (with vegan nacho cheese and tomatillo avocado sauce) and housemade Levy signature vegan mini burgers.
It's just not easy to land a top spot on PETA's scorecard—the competition is tight, and many stadiums have filled their concession stands with a number of winning vegan options.
If your team's ballpark is in a bit of a slump, take to social media and urge it to offer more vegan choices. Who knows? Maybe next season, it'll make a run for first place.
Want to know what vegan options are at your local ballpark? Check out this comprehensive guide. And remember that it's always best to plan ahead. Food-service providers change products frequently, so the safest bet is always to call ahead and ask.
Oh, and if you want to know what's cookin' in the minors, check out PETA's list of the Top Five Vegetarian-Friendly Minor League Ballparks.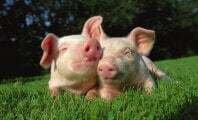 Order Your FREE Vegan Starter Kit