Published by .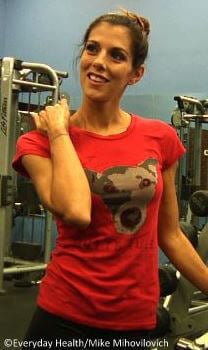 The following article was written by Jenna Morasca, who is an actor, a model, the winner of Survivor: The Amazon, host of Everyday Health, and a lifelong animal advocate.
There are plenty of things you can do to help animals! The best advice that I can give right off the bat is not to get overwhelmed and feel bad when you read about all the issues. Rather, read through the causes listed on PETA's website and think about which one speaks to you the most.
My spousal equal, Ethan, uses an inspiring line in his speeches that I always repeat to others and myself when the issues become overwhelming. He says, "Find what makes your heart break, and do something about it." So, in that vein, read through the list of issues and find the one that makes your heart break the most—and then do something about it!
Another piece of advice is to write things down! I find it less daunting to make a list of the things that you can do to help. For example, you can volunteer at a local animal shelter or vet clinic, sign petitions, cut one thing out of your diet (dairy products, meat, etc.), donate your furs or leather goods, or purchase cruelty-free makeup. There are plenty of easy things that you can do from the comfort of your own home to get you started on the path of giving back.
One year, my good deed started with deciding to give all my friends makeup from a cruelty-free cosmetics line that I love. I did this with the hope that they would love it as much as I do and end up switching their makeup over to that cruelty-free line forever. This method is less "in your face" and more about wanting to "spread the love" of a great new product. As an added bonus, my friends still use that makeup brand to this day! This is a win-win situation for everyone—you, animals, and your friends. This year, one of my New Year's resolutions is to switch entirely to cruelty-free makeup. Here are a few of my faves:
Bare Escentuals
Dermalogica
Josie Maran
Slatkin
Note: Be sure to check PETA's Cruelty-Free Database regularly for the most up-to-date list of companies that do and that don't test on animals, as it changes frequently.
Small deeds like this can go a long way—just ask the animals who were saved from cruel and barbaric animal testing. It's also very important not to get too overwhelmed—I am telling you that it's OK to start small! A good way to take a baby step into the world of animal rights is to make a list of small things you can do to help your issue and work your way up to the big things. Make a promise to do one thing on your list each month. I guarantee that by the end of the year, you will have completed way more than one thing on your list each month and will feel so much better about yourself. And most importantly, animals will have benefited.
In what ways are you active for animals? Share your story in the comment section below!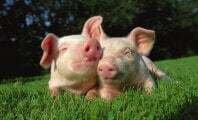 Order Your FREE Vegan Starter Kit