Published by .
The following article was written by Jessica Getty.
UPDATE: Alicia Silverstone's Generosity Knows No Bounds!
Alicia Silverstone has added even more items to the eBay for Charity that will benefit PETA. These items are one of a kind and are a must for any fan of her work onscreen or off for animal rights:
The auction is on! Bid on these items now before someone else scoops them up. And don't forget: Your winning bid will go straight to helping PETA end animal abuse.
*****
PETA supporter, animal rights activist, and author of the The Kind Diet Alicia Silverstone has made it her mission to spread the word about the benefits of living a compassionate lifestyle. Alicia wants to do everything she can to reduce animal suffering through simple lifestyle choices, such as going vegan, never wearing any products made from animals, and buying only from companies that never test on animals!
Alicia has found one more way to help animals and support her favorite charity (PETA!): by donating autographed photos and memorabilia from some of her most famous roles.
So if you frequently quote Clueless, loved Braceface, and cheered for Batgirl, visit ebay for Charity for your chance to pick up one-of-a-kind Alicia Silverstone memorabilia! All the proceeds from the auction will go directly to PETA's lifesaving work.
Find out how you can sell or shop for items benefiting PETA on eBay—visit eBay for Charity!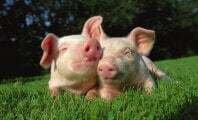 Order Your FREE Vegan Starter Kit