Actor Nia Long, star of the  film The Best Man Holiday, bares it all in a sexy new ad for PETA to encourage people to be comfortable in their own skin and let animals keep theirs.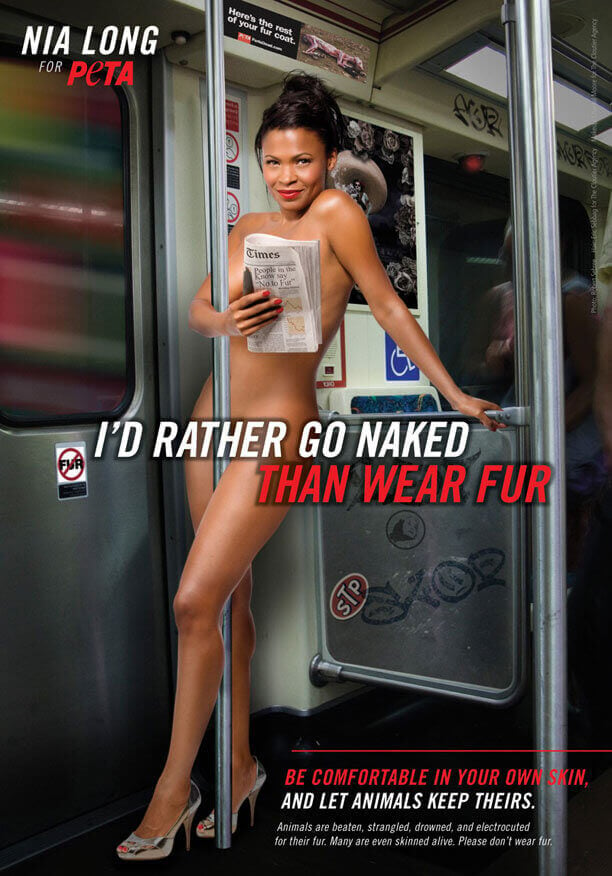 Nia believes that "all things that have been given life deserve to live life," and she proves to her fans that she is committed to the cause by posing naked on the subway train with a tagline that reads, "I'd rather go naked than wear fur."
Nia joins a long list of gorgeous celebrities who have posed for PETA's iconic anti-fur campaign. She says, "In being a responsible adult and really understanding what happens for one fur coat and how many animals are killed and slaughtered for one fur coat, it just isn't worth it to me."
Animals who are raised and killed for their fur endure tremendous suffering. Foxes, minks, coyote, and rabbits—and even cats and dogs—are bludgeoned, electrocuted, and often skinned alive for their fur.
Nia wants everyone to know about the cruelty behind fur. Check out what else Nia had to say when we sat down with her during her photo shoot.
 Help Nia and PETA spread the word that there is no reason to wear fur, and pledge to be fur-free!