One might say that the cast of Vanderpump Rules (the staff of Los Angeles restaurant SUR) is full of coworkers with … varied personalities. Learning how to co-exist is tough enough for humans who are able to go home at the end of the day—unlike the animals held captive at SeaWorld.
The reality show's beauties Lala Kent, Scheana Shay, and Ariana Madix found one thing that most people agree on: Orcas at SeaWorld need to be released into seaside sanctuaries.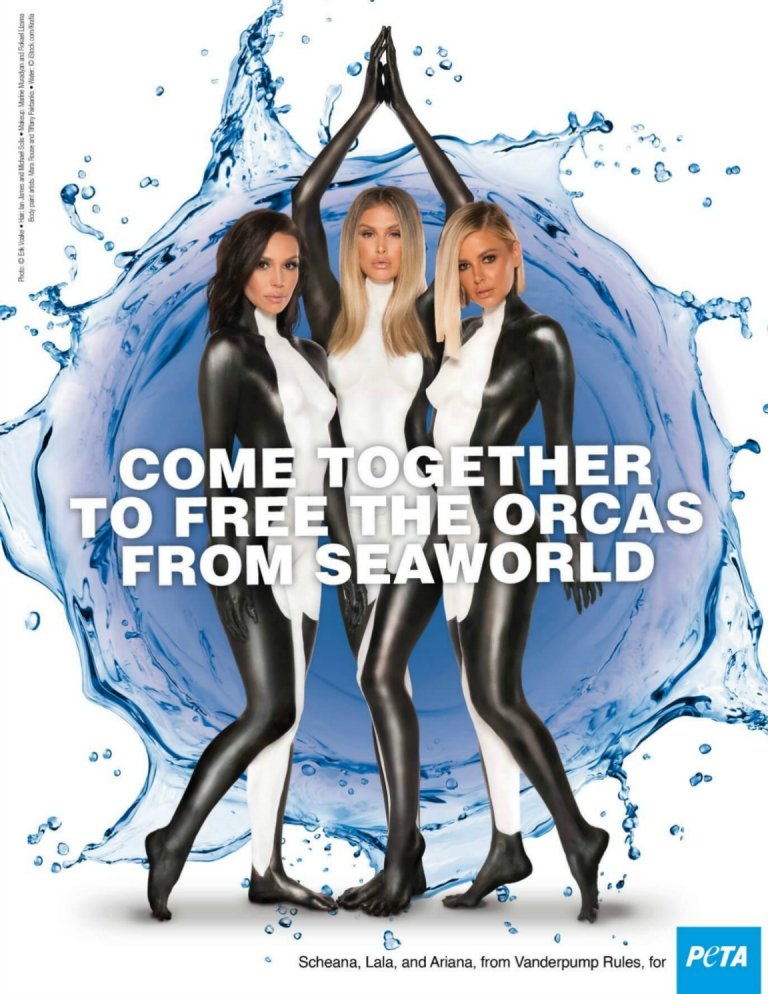 All three women feel passionate about orcas' intelligent and social natures—and have chosen to speak out against their imprisonment. Ariana highlights a fact about the prisoners at SeaWorld and other marine abusement parks that not many people are aware of: "Each pod has their own language. So you have orcas from all different pods who are living in these bathtubs, and they're fighting with each other because they have no way of communicating. They're confused, and they're full of anguish, and it shouldn't be that way."
Check out the behind-the-scenes video and exclusive interview from the beauties' photo shoot and see what they have to say about SeaWorld:
In the wild, orcas have sophisticated social relationships, working cooperatively to find food and traveling up to 140 miles in the ocean every day. The tiny tanks to which they're confined at SeaWorld leave them with nothing to do but float listlessly or swim in endless circles while enduring stress, frustration, and depression as well as the blazing-hot sun. They gnaw on the metal tank bars, often breaking their teeth, and are given drugs to manage stress-induced aggressive and psychotic behavior.
Tell SeaWorld to act now and craft a transition plan to move the long-suffering animals at its parks into ocean sanctuaries so that they may have some semblance of a natural life outside these prison tanks. It's the least that the abusement park owes to these animals, having denied them their freedom for their entire lives.