A hundred years ago, an elephant named Mary was strung up by a crane and publicly hanged to death in a Tennessee town after she struck back at a circus employee who hit her with a sharp tool called a bullhook.
It took two attempts to kill Mary. The first chain placed around her neck snapped, sending her crashing to the ground and breaking her hip. The second attempt was successful. Her broken body was buried nearby. No monument exists to commemorate Mary, just this shocking image, which serves as a haunting reminder of the circus industry's long history of killing and abuse.
Mary was killed in 1916. Today, 100 years later, elephants still suffer in traveling circus shows.
Beating animals and driving them mad for tawdry human entertainment have no place in civilized society. While kind people hope such shameful acts of exploitation—like hanging Mary from a crane by her neck—have been relegated to the distant past, the uglier side of humanity still seeks to profit from animal abuse. One of those profiteers is UniverSoul Circus.
As more and more people become outraged by the idea of shackling animals and carting them around the country—and as cities and countries worldwide continue to ban wild-animal acts and bullhooks (the same type of weapon that was used to strike Mary 100 years ago)—businesses are scrambling to rework their shows and rebrand their images to align with an increasingly aware and compassionate public. Ringling Bros. recently pulled its elephants off the road, and SeaWorld, whose circus-style orca shows have been under intense fire, announced that it would stop breeding captive orcas. However, despite thousands of appeals from the public, UniverSoul refuses to budge on its decision to use animals, making it a modern-day disgrace steeped in a 100-year history of cruelty to animals.
UniverSoul Circus: Torture for Hire
UniverSoul Circus does not possess an exhibitor license from the U.S. Department of Agriculture (USDA). The animal acts in its shows are leased from outside exhibitors, including many with documented histories of animal abuse and neglect, such as Mitch Kalmanson, Carson & Barnes Circus, and Larry Carden. Thanks to this shady arrangement, UniverSoul is not subject to citations under its own name. However, animal exhibitors performing with UniverSoul have repeatedly failed to meet minimum standards for the care of animals used in exhibition as established by the federal Animal Welfare Act (AWA).
The USDA has cited UniverSoul exhibitors for many violations, including failure to maintain transport vehicles properly as well as failure to provide adequate veterinary care and adequate space. Animals used in UniverSoul shows have also injured humans and other animals.
Following two dangerous tiger escapes from UniverSoul Circus, including one in which a tiger attacked an elephant, Mitch Kalmanson was ordered to pay thousands of dollars in fines and to cease and desist from violating the law. What's more, federal records show that a limping tiger was denied veterinary care, elephants were denied foot care, and big cats were locked in cramped cages 24 hours a day, seven days a week, all while on tour with UniverSoul.
UniverSoul elephant performance in Dallas DENIED due to TB concerns. http://t.co/RXhyMQe43z

— Circus Protest (@CircusProtest) August 20, 2015
Betty and Bo, two elephants currently on the road with UniverSoul, recently tested reactive on blood tests for tuberculosis, meaning that it's highly likely that they carry the disease, which is transmissible to humans. Two other elephants, named Cindy and Betty, are chronically lame, likely because they've been chained and intensively confined for years.
Make no mistake: Paying someone else to abuse animals on your behalf makes you an animal abuser. As long as UniverSoul continues to hire exhibitors who hurt animals, its cruel shows should—like Mary's hanging—be met with outrage. If you think that's an overstatement, try watching this video of escaped elephant Tyke, which was taken in 1994, about 80 years after Mary was killed. After escaping her circus captors, Tyke was shot nearly 100 times in the streets of Honolulu before she died.
Time has changed our attitudes, but the practice of exploiting elephants, big cats, and other animals in circuses lives on 100 years after Mary was hanged and more than 20 years after Tyke was gunned down. Animals are not ours to use for entertainment, and elephants don't belong in loud, confusing, and abusive circus shows like the ones conducted under UniverSoul's banners.
Failure After Failure, With Animals Paying the Price
All wild animals suffer when used in circus acts. Recently, on two separate occasions, zebras have escaped UniverSoul circus shows and run loose on busy city streets.
For the second time in 5 months, zebras have escaped @UniverSoulCirc & were loose on the streets. https://t.co/KXXYFbsQ7E #BoycottTheCircus

— PETA (@peta) March 21, 2016
This video, taken at a UniverSoul performance, shows an obviously distressed tiger, whose paw has become trapped in a sliding cage door, panting and struggling to free himself:
A whistleblower once employed by UniverSoul reported that elephants whom UniverSoul paid an exhibitor to include in its shows were kept in chains at performance venues 24 hours a day, seven days a week, unless they were performing. According to the former employee, the chains used to hold the elephants were so short that the animals were unable to lie down, turn around, or get any exercise. With inadequate protection from the sun and elements, elephants at UniverSoul were, on one observed occasion, forced to stand outside in at least 18 inches of waste-filled floodwater, exposing them to the danger of falling trees and power lines, among other harmful conditions.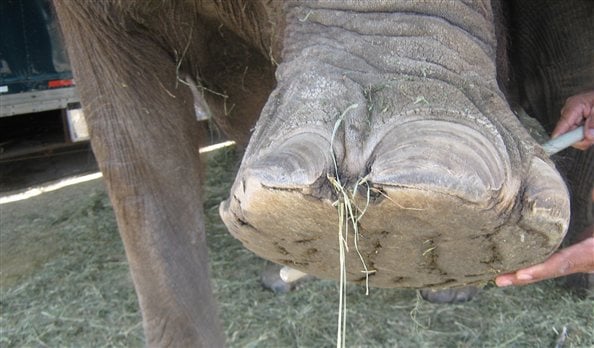 In the wild, elephants spend their waking hours exploring, swimming, foraging, and socializing. Wild elephants sometimes walk up to 30 miles in a day. Deprived of this needed exercise, captive elephants forced to stand in trailers and on hot concrete often suffer damage to their feet and joints, which can lead to serious (and even fatal) abscesses, infections, and other problems. Foot problems and arthritis are the leading reasons why captive elephants need to be euthanized. The photo above shows the overgrown nails and ragged foot of an elephant owned by an exhibitor with a record of chronic neglect—paid by UniverSoul to supply elephants for its shows.
You can help stop this, and it starts with your wallet.
We can't change the past, but we can use our voices and our money to help shape a better future for animals suffering in circus acts. Avoid all circuses that use elephants, big cats, and other animals and urge your family and friends to do the same by sharing this post on Facebook and Twitter.
Attended my first @Universoul circus last night. GREAT SHOW. But C'mon peeps! Let's retire the exotic animals. pic.twitter.com/El7pDQz8R0

— Paul Grant (@paulvgrant) July 2, 2016
UniverSoul already has a number of thrilling acts performed by talented (and willing) humans. Join concerned citizens everywhere who are calling on the company to join the ever-growing list of animal-free circuses and to leave abuse behind. Change will come as profits dwindle, so be sure to send a clear message to UniverSoul: You won't be attending its shows until it stops profiting from animal suffering. Sign our action alert by clicking the link below and encourage others to do the same.