Located on the Caribbean coast with its white sands, cenotes (underground chambers or caves full of water), breathtaking scenery, archaeological sites, and Mayan architecture, it's no wonder that Tulum, Mexico, is a popular tourist destination.
We're still in the midst of a pandemic, yet The Washington Post reported that there are 100 flights going from the U.S. to Quintana Roo—the state in which Cancún and Tulum are located—every single day. The region's tourist pull at this unpredictable time may be contributing to a rise in COVID-19 cases in the area—endangering locals, resort workers, and their families as well as animals. Although Tulum's gorgeous beaches, yoga retreats, and magical cenotes are enough for visitors to enjoy, sham animal "sanctuaries" and other sleazy animal displays are targeting tourists, encouraging them to empty their wallets and to get "likes" on Instagram.
Sancho the Drunk Donkey
At Tulum's Hotel Zulum, tourists laughed while recording themselves giving a gentle donkey named Sancho beer and other alcoholic beverages.
Someone even started an Instagram account in his name. After the video went viral, local officials went to the hotel and were told that Sancho had been returned to the ranch he came from.
Panchito the Crocodile
Influencer Sebastian Trip, who runs a travel agency, recorded people swimming with a crocodile he called Panchito, and the video went viral on his social media accounts.
Sebastian claims to be an animal lover, but by promoting this video and commenting that what he loved most about his trip was his contact with Panchito—perpetuating the false idea that wild animals are here to entertain us—he shows that he doesn't actually care about animals but rather loves exploiting them for attention. As a result of his video, many tourists went to the cenote to take selfies with Panchito—turning this sensitive being into a tourist attraction and profiting Sebastian's travel agency.
Thanks to Sebastian, Panchito has become famous—although fame won't benefit this vulnerable reptile at all.
Akumal Monkey 'Sanctuary'
Hoping to lure unwitting tourists, an outfit near Tulum calls itself a "sanctuary," but monkeys and parrots there are exposed daily to gawking visitors who take selfies with them.
No legitimate exotic-animal sanctuary would allow any kind of hands-on interaction, including taking photos with animals. Animals used as photo-op props and in public encounters are taken away from their mothers as babies, which is extremely traumatic for both. They will never be able to hunt, forage, raise their families, or engage in any of the types of natural behavior that give their lives meaning.
At reputable sanctuaries, animals are provided with safe, comfortable living conditions that give them as natural an existence as captivity allows.
Dolphinaris Tulum
Located inside the Gran Bahia Principe Tulum Hotel, Dolphinaris Tulum allows endless streams of tourists to interact with dolphins, including swimming with them, kissing and petting them, and subjecting them to a "foot push," "dorsal ride," or "belly ride." The "Trainer for a Day" program lasts eight hours.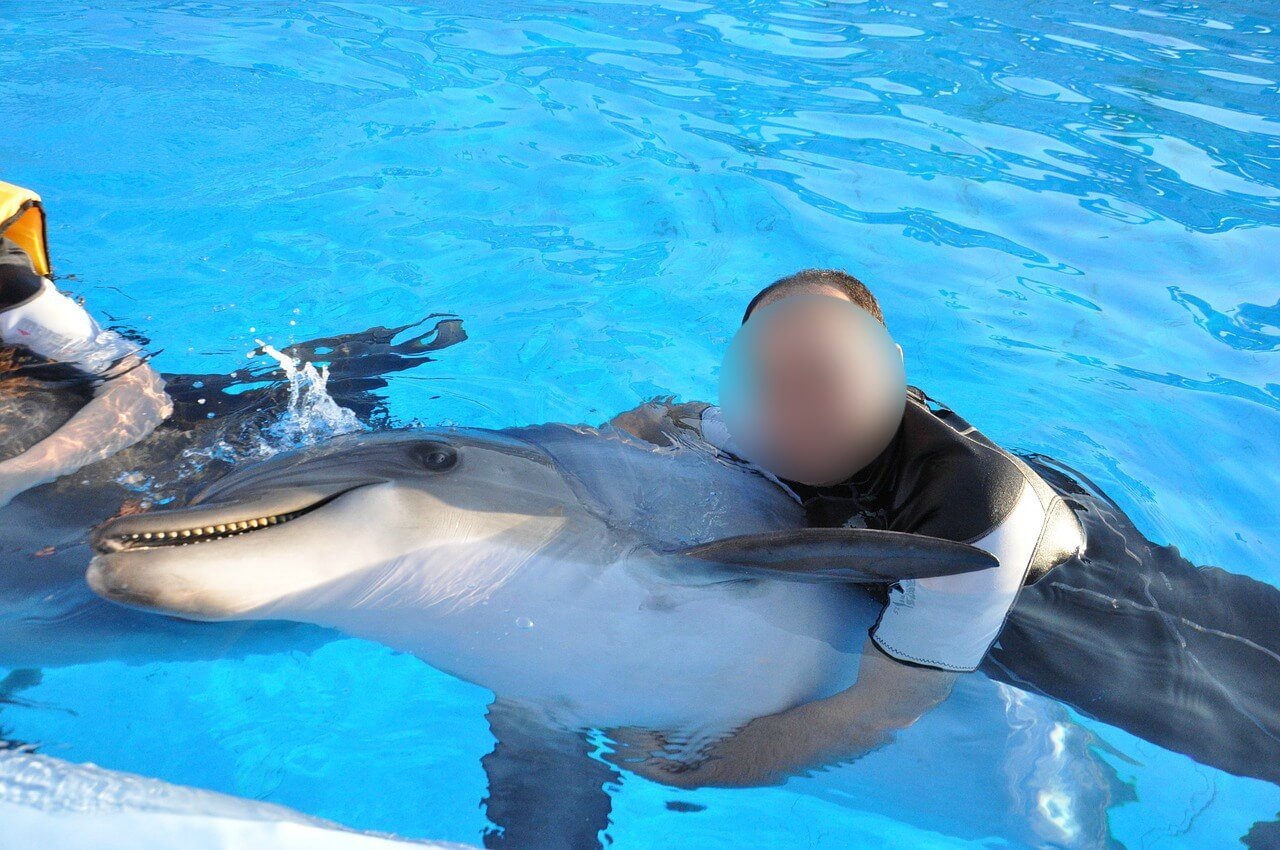 In nature, dolphins swim up to 60 miles a day together in family pods. They have different cultures and help sick or injured members of their group. And they use a variety of vocalizations to communicate with each other. Humans are enchanted by these exceedingly intelligent marine mammals, but the ones used in "swim with dolphins" programs are far removed from all that's natural and important to them.
Tulum Must Stop Being a Typical Tourist Trap
Tulum's hospitality industry has fabulous amenities to offer, including the option of staying in rustic cottages and small establishments located in lush natural settings. Encouraging visitors to disrespect animals stains the reputation of this lovely locale.
Tulum officials need to step in when animals are in harm's way and promote safety and respect while tourists enjoy the destination's natural beauty.
How to Enjoy Nature Without Causing Harm
Don't leave your ethics behind while on vacation. Refuse to swim with dolphins, never pay to hold a tiger cub, don't take selfies with birds or reptiles, and never ride a horse or take a carriage ride. As long as tourists spend money on such activities, animals will continue to suffer. Animals are not ours to use for entertainment, so be a compassionate traveler and leave them alone.
Check Out These 7 Animal-Friendly Destinations for Your Next Vacation