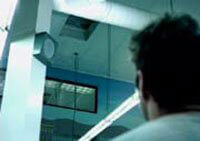 The Scene:
As shoppers meander through their local grocery store, a shaky voice comes over the intercom:
"Attention Shoppers: Do exactly as I say and nobody gets hurt. Resist and innocent creatures will be beaten, scalded alive, and dismembered and their throats slit, while countless people are poisoned at random by food laced with deadly bacteria."
The Threat:
It has nothing to do with any elusive underground network, armed robbers, or foreign power.
The Message:
A life-saving one delivered by a turkey—"Go Vegetarian!"
Launched in time for Thanksgiving—when 40 million turkeys will be killed to become gruesome centerpieces—PETA's new holiday ad delivers the message that the holidays should be a time of celebration with family members. For the animals, it is anything but.
Turkeys are tormented on factory farms and then watch in horror as their companions are killed before them and struggle in terror as their throats are slit before being scaled—often while still conscious. As if to cry out from the grave, their corpses play host to listeria, salmonella, E. coli, and other bacterial infections that sicken and kill thousands of consumers every year.
Who would support such mayhem? No need to look far. Unfortunately, the millions who plan to observe Thanksgiving by carving themselves a portion of turkey flesh are inextricably linked to a chain of terror.
Want to Win the "War on Turkey Terror"? Simple. Go vegetarian!
Instead of turning Thanksgiving into a bloodbath, PETA suggests feasting peacefully on wholesome, delicious, and healthy vegetarian delights like Chestnut "Sausage" Stuffing and German Chocolate Cake.
Soy-based Tofurky®, Unturkey®, and Tofu Turkey™ roasts are kind alternatives to cooked birds.
Go vegetarian and bring peace to the world one bite at a time.