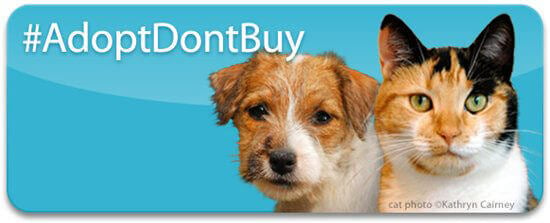 Help PETA spread the word that adoption is the best option! Adopting a dog or a cat from a shelter gives animals a second chance at life. We're celebrating adopted animals with a special #AdoptDontBuy hashtag on Twitter. Follow @peta on Twitter and then tweet telling us why you love your rescued friend or share a pic of your adopted furry companion with us—and don't forget to include #AdoptDontBuy in your tweet!
Every year in the U.S., an estimated 6 to 8 million lost, abandoned, or unwanted dogs and cats enter animal shelters and more than half of them must be euthanized because there are not enough homes for them. Every dog or cat purchased from a pet store or a breeder takes away a home from an adoptable animal—meaning that one more animal in a shelter will die. If you're thinking about bringing an animal into your home, be sure always to adopt and never to buy.
Check out the tweets from proud animal adopters below, and join in the conversation! You may even see @peta re-tweet your comments.
//