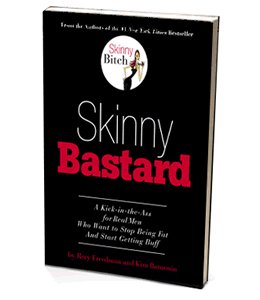 Whether you're a guy who wants to turn his beer gut into a six pack or a "Skinny Bitch" who wants her beau to get buff, Rory Freedman and Kim Barnouin's new book is just what you need. The masterminds behind the New York Times bestsellers Skinny Bitch and Skinny Bitch in the Kitch, the girls are back and at their bitchy best with Skinny Bastard.
A manly manifesto described as "a kick in the ass for real men who want to stop being fat and start getting buff," Skinny Bastard is designed to help dudes lose the love handles and get ripped by going vegan. Touting the many health benefits of a vegan diet, the book debunks the myth that meat is a healthy protein and warns about the perils of eating meat (can you say impotence?) while giving guys the right nutritional tools to get fit.
With its tough-love tone, hilarious locker room humor, and easy-to-follow advice, Skinny Bastard is a must-read for men who want to lose the flab and look and feel fab. We promise—it really works. The proof is in the many professional athletes who stay in top form by following a vegan diet. Just ask the Milwaukee Brewers' Prince Fielder and the Dallas Mavericks' Jerry Stackhouse.