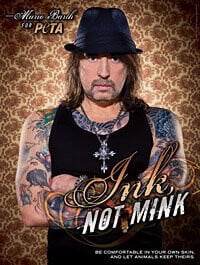 Innovative and influential tattoo artist Mario Barth is a trendsetter in the body-art world and the go-to-guy for celebrities who are seeking ink. He owns and runs internationally renowned Starlight Tattoo, the Web's tattoo superstore, and hosts the annual Biggest Tattoo Show on Earth. Now, Mario is speaking out against wearing fur and says, "Ink, Not Mink," in an ad for PETA.
Mario's famous clientele includes Sylvester Stallone, Tommy Lee, Lenny Kravitz, Jason Kidd, Fieldy of KoRn, Ja Rule, Nikki Sixx, My Chemical Romance, rapper Jim Jones, and NFL Giants Super Bowl champions Jermain Taylor, Kendrick Allen, and David Diehl. These stars and others depend on Mario to be on top of the latest styles—and he knows that the cruelty of the fur industry is never trendy.
Trappers strangle, beat, and stomp animals to death—and even skin them alive—for their fur. To avoid damaging their coats, animals are often gassed, poisoned, or electrocuted. Mario urges people not to wear fur because "[a]nimals are living beings with their own thought processes and feelings. They experience pain just like us." Fur is literally a killer look. Join Mario in choosing "Ink, Not Mink," and please don't buy or wear fur. Find out what else Mario had to say about the fur trade in his behind-the-scenes interview.