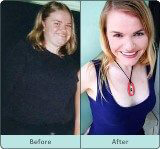 Have you lost weight on a vegan diet this summer? Tell us about your experience! Did you shed unwanted pounds? Were you finally able to slip into that sexy two-piece swimsuit? Have you improved your health and saved the lives of many animals by removing meat, eggs, and dairy products from your diet like Carrie did?
Before, Carrie weighed 178 pounds. After adopting a healthy vegan diet and shedding more than 50 pounds, she looks and feels fabulous. Watch Carrie's success story now!
[View:http://www.youtube.com/watch?v=SrAPlKIcWIk]
Share your story today! Leave a brief message below and inspire others to make the transition to a healthy and humane vegan diet.
Can't express it in words? Upload a short video to our Summer Weight-Loss Testimonial YouTube page, and check out others who are just like you!