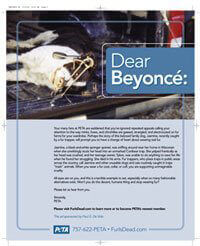 After repeated calls and letters to Beyoncé Knowles about her red carpet appearances in real fur, PETA is running an advertisement in Billboard Magazine asking the "Naughty Girl" to be nice to animals.
PETA's full-page appeal tells the story of Jasmine, a black-and-white springer spaniel who recently wandered into an unmarked Conibear trap set by a Wisconsin fur trapper and struggled to free herself, only to die in her teen guardian's arms. Fur trappers call Jasmine and other unusable dogs and cats routinely caught in traps "trash" animals. Since the coyotes, foxes and beavers who are beaten and drowned in traps are not the only animals who suffer in the fur industry, PETA is hoping that the sad story of a beloved family dog will prompt Beyoncé to have a change of heart about wearing real fur.
Click here to view PETA's open letter to Beyoncé.
Click here to see why foxes and minks aren't Beyoncé's only "fashion victims."
Please write polite letters encouraging Beyoncé to set a kind example for her fans by dropping fur from her wardrobe.
Beyoncé Knowles
c/o Yvette Noel-Schure
Columbia Records
550 Madison Ave., 26th Fl.
New York, NY 10022 212-833-8536 (fax)
[email protected]
c/o Matthew Knowles
Music World Entertainment
9898 Bissonnet St., Ste. 625
Houston, TX 77036
713-772-3034 (fax)
[email protected]