Are you smarter than a fifth grader an octopus? These clever, crafty cephalopods have multiple brains and hearts, can use tools, and are highly remarkable. My Octopus Teacher was not only a smash hit on Netflix but also took home the 2021 Oscar for Best Documentary.
Octopuses are playful, resourceful, and inquisitive. Some species cuddle with one another, while others have been known to bond with humans. They are among the most highly evolved invertebrates and are considered by many biologists to be the most intelligent. They possess long-term and short-term memories, similar to vertebrates, and pass their personality traits on to their offspring.
What else do octopuses have going for them?
1. They're great escape artists.
There have been dozens of reports of octopuses who have sneaked out of tight spaces, and most recently, the world was captivated by Inky's daring story. Inky was an octopus living at a New Zealand aquarium who reportedly made his dash for freedom when the lid of his enclosure was left slightly ajar one night. Inky, a common New Zealand octopus, is believed to have climbed out of his tank, fallen to the floor, and slid across the aquarium floor to a drainpipe. He then dropped 164 feet through the drainpipe to freedom in the sea. Learn more fascinating facts and read inspiring stories about animals like octopuses in the bestselling book Animalkind.
Remember: Life in a tank is no life at all for sensitive, intelligent octopuses. Octopuses like Inky are capable of complex thought processes, have long-term memories, use tools, learn through observation, and even have the capacity to feel bored. His bold escape should send a message to aquariums to keep their tentacles off octopuses for good.
Then there was the foot-long two-spotted octopus confined to a tank in an aquarium in Santa Monica, California, just a few feet from the ocean. She managed to disassemble a valve at the top of her tank and release hundreds of gallons of water, flooding the surrounding exhibits and offices. Think she was trying to tell aquarium officials something?
Houdini had nothing on our eight-legged friends.
2. Female octopuses have boundaries, and they enforce them.
When males make unwanted mating advances, female octopuses make their boundaries known by throwing pre-collected sand at their aggressors.
3. Octopuses are 50 shades of gray … literally.
Octopuses change the color of their skin both for camouflage and communication. They also alter the position of their muscles to change their skin's texture—a skill they use to masquerade as seaweed or rocks.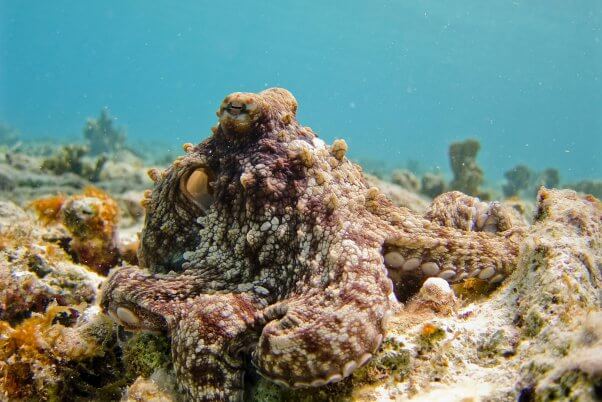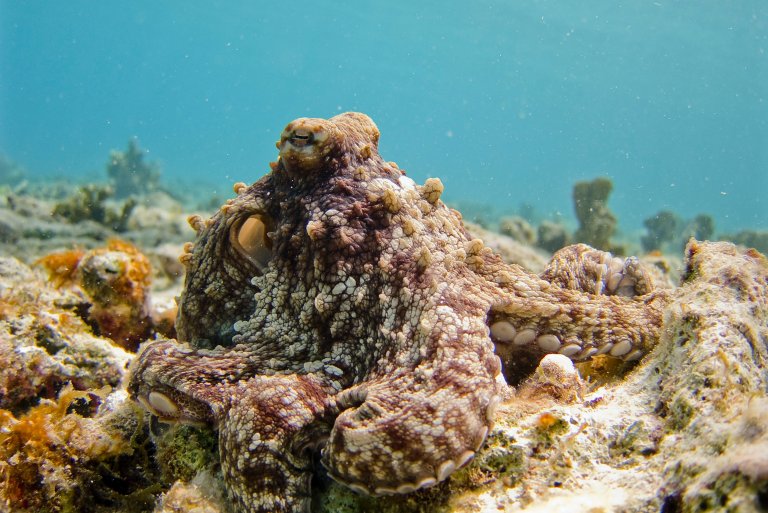 4. Do octopuses use tools?
Veined octopuses were spotted off Indonesia tiptoeing with stacks of upturned coconut shells clutched beneath them and then turning their booty into portable hideouts. First, though, they flushed the mud from them. A clean house is a happy house, after all.
5. Octopuses smile for the camera.
An octopus named Rambo not only learned how to take photos, he also mastered the camera after just three attempts. "That's faster than a dog," said a staffer at the New Zealand aquarium where Rambo is kept. "Actually it's faster than a human in some instances."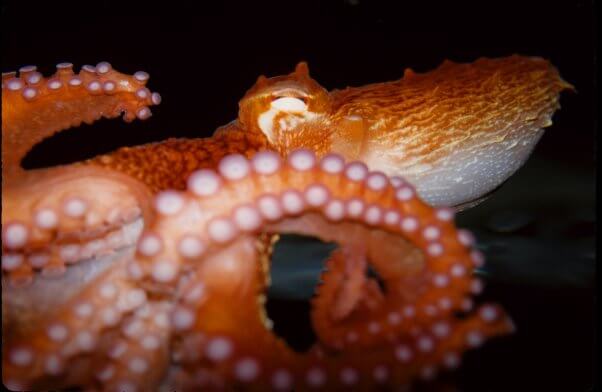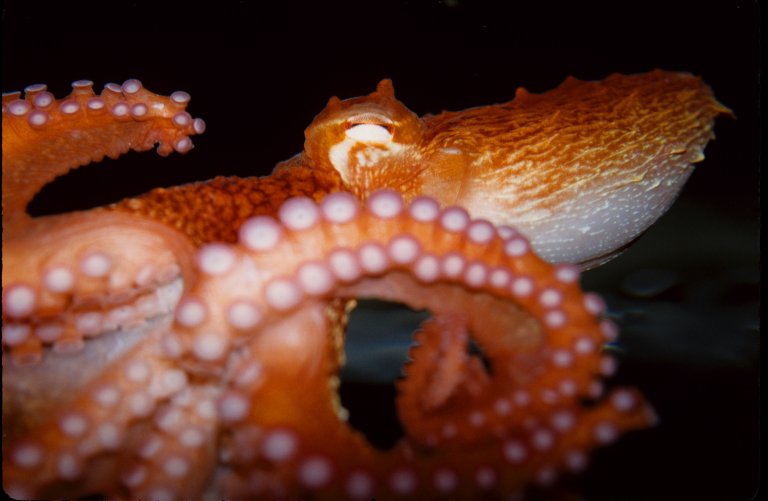 6. These cephalopods have good aim.
Otto, an octopus being held in a German aquarium, alleviated his boredom by squirting water onto a light above his tank, short-circuiting the lights in the entire building. He has also entertained himself by juggling hermit crabs, throwing rocks at the glass of his tank, and "redecorating" his tank by moving everything around.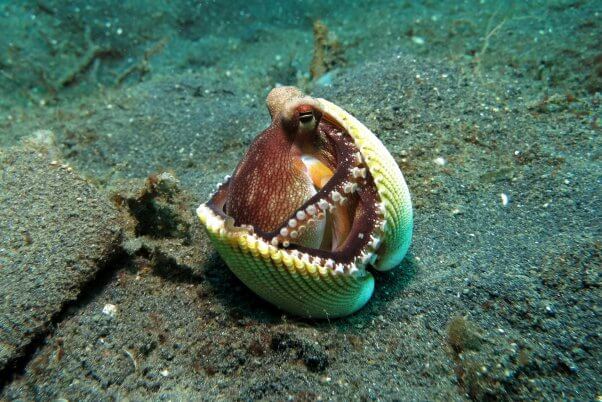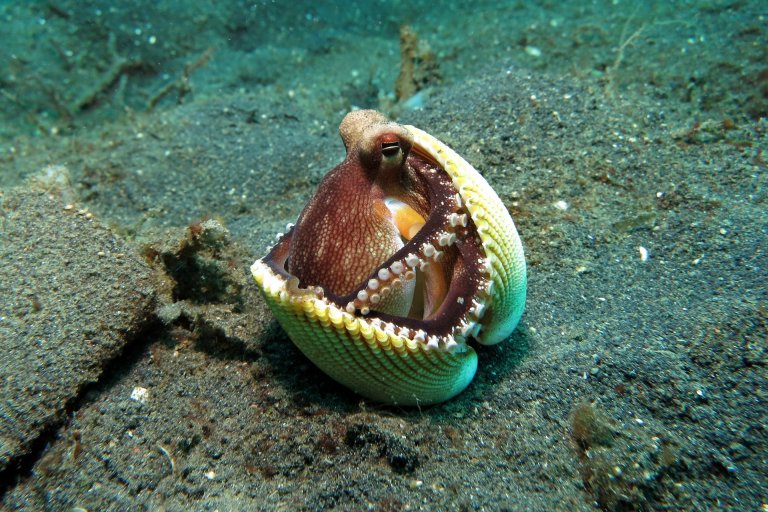 7. They never give up.
Sid, yet another captive octopus, managed to escape from his tank in New Zealand multiple times. He even hid in a drain for five days. Happily, his persistence paid off: The aquarium finally released him back into the ocean.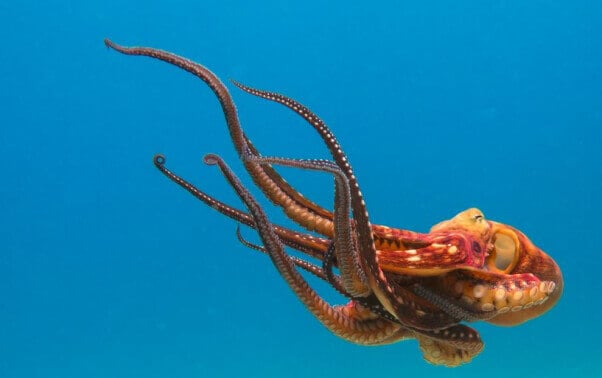 © iStock.com/oceanbodhi
8. Octopuses feel pain.
Anyone moved by My Octopus Teacher will be upset to hear that PETA has exposed that in some restaurants, octopuses are still eaten alive. Of eating an octopus alive, Dr. Jennifer Mather, an expert on cephalopods and a psychology professor at the University of Lethbridge in Alberta, Canada, says, "[T]he octopus, which you've been chopping to pieces, is feeling pain every time you do it. It's just as painful as if it were a hog, a fish, or a rabbit, if you chopped a rabbit's leg off piece by piece. So it's a barbaric thing to do to the animal."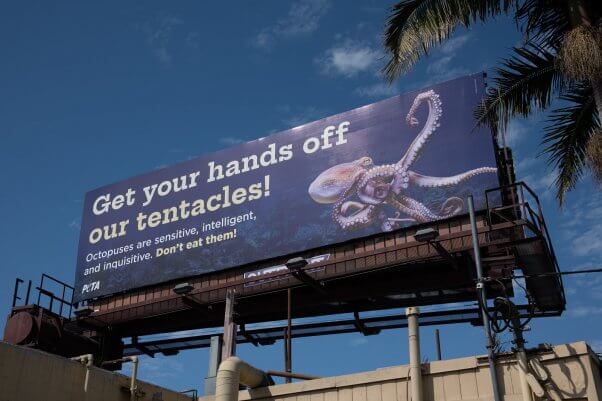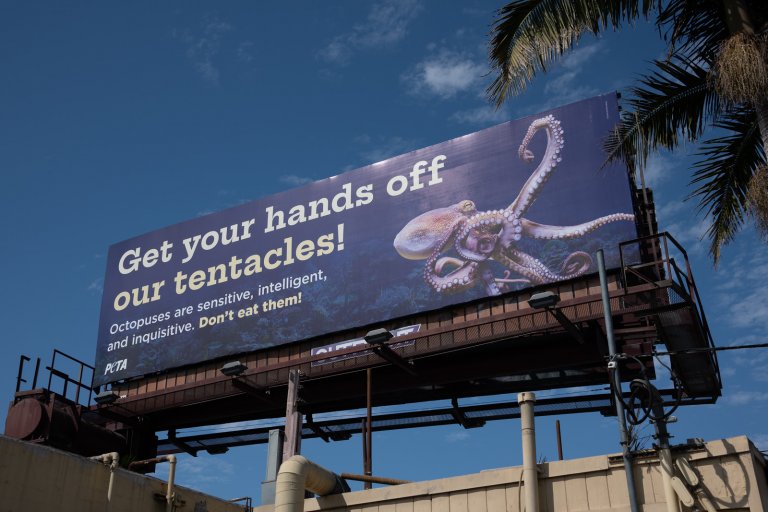 PETA is pushing for an end to that atrocity and recently scored a victory when a New York City restaurant agreed to stop serving live octopuses and lobsters.
Of course, if humans had the three hearts an octopus has, we would never capture them, let alone eat them. We should need just one functioning heart to allow us to be kind to animals in all their forms.
Speak Up for Octopuses
Do you live in California or New York? Click below to call on your lawmakers to introduce legislation that prohibits animals from being mutilated, "prepared," and served alive.
Help Octopuses if You Live in California
Help Octopuses if You Live in New York
And for octopuses trapped in SeaQuest aquariums around the U.S.—like the one who was reportedly boiled to death in a tank at SeaQuest Las Vegas—urge the chain of tourist traps to stop exploiting animals and transfer them to reputable facilities:
Tell SeaQuest to Do Right by Octopuses and All Other Animals