Octopuses are among the most highly evolved invertebrates, and they're considered by many biologists to be the most intelligent. They possess both long-term and short-term memories, similar to vertebrates. They pass their personality traits on to their offspring. And interestingly, two-thirds of their "brain" lies in their arms, not their head.
In his article for The Washington Post titled "Lurking at the Aquarium, Brilliant Houdinis of the Deep," Darragh Johnson explains that octopuses "have been around since the dinosaurs …. They're capable of lifting four times their body weight …. They change color." But they can also distinguish between colors as well as open screw-top jars and child-proof bottles and use tools. Octopuses' intelligence is so great that they even have the capacity to feel bored. And Johnson writes that, sadly, they "can die of boredom—by climbing out, but not finding a tank to climb back in." In one disturbing instance an octopus named Octavia, who was kept at the San Pedro Cabrillo Marine Aquarium, yanked out her drain plug during the night, and was found dead at the bottom of the emptied tank the next morning.
They're Heartbreakingly Mistreated
Reading this last fact nearly broke my heart because it confirmed a feeling that I'd felt as a child when I saw a lone giant Pacific octopus at an aquarium. He or she, of course, looked bored and cramped in what was essentially a small glass box—but how was I to know that he or she could actually be feeling such a complex emotion?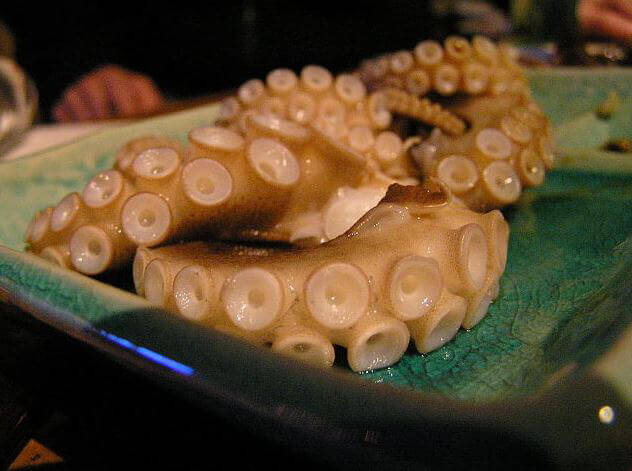 Years later, I was thrilled to learn about how fascinating these animals are but also horrified to discover the myriad ways in which they're abused. There's the dish called "sannakji," in which an octopus's head is split open, his or her brain is removed, and the body is served on a plate while the arms are still writhing. (Refer to the above fact that two-thirds of octopuses' neurons reside in their arms.) Then there's the alleged neglect of the Covino brothers, who own a few shoddy aquariums across the U.S. At one of their aquariums, an employee was reportedly told to change an octopus's water less frequently, which allegedly resulted in the animal's death. (Thankfully, one of the brothers was recently convicted of illegally buying marine animals.) And how could we forget about Paul the Octopus, who was deemed a World Cup–predicting "oracle"?
 The Octopus's Revenge
The following five stories illustrate the undeniable intelligence of these animals and call into question the practice of imprisoning them for a moment of entertainment. The witty antics in these accounts prove that octopuses have a sense of humor, as science writer Eugene Linden has suggested. It's acknowledged that they have distinct individual personalities, as they're consistently the only animals in aquariums who are given names.
Here are five stories of their notorious mischievousness:
1. When All Else Fails, Flood the Aquarium
In Santa Monica, California, only feet away from the ocean, sits the Santa Monica Pier Aquarium. A California two-spotted octopus at the facility decided she'd had enough, so she disassembled a valve at the top of her tank and released at least 200 gallons of water into the surrounding exhibits and offices. She was only a foot long but strong in spirit! Fortunately, she survived her attempt, but sadly, she was placed back in confinement.
 2. Short-Circuit the Lights and Throw Rocks
Otto, an octopus being held in a German aquarium, communicated his boredom in a very straightforward manner. Multiple nights in a row—baffling aquarium employees—Otto squirted water onto a light above his tank, short-circuiting the lights in the entire building! Employees have admitted that Otto gets bored in the winter when the aquarium is closed. He displays his boredom by juggling hermit crabs, throwing rocks at the glass, and even "redecorating" his tank by moving everything around. If these aren't signs of unhappiness, I don't know what is.
3. Shove That Food Down the Drain
An octopus being held in captivity at Millersville University in Pennsylvania for research purposes expressed her discontent after she received a bad meal. When she realized the food was stale (of course, because it wasn't caught in the wild as nature had intended), she waited for the researcher to return to her tank. She made direct eye contact while proceeding to shove the food down the drain. Needless to say, the researcher got the point. Experts believe that octopuses have learned to be clever in order to survive without physical defenses such as spikes or shells and to navigate the complex, maze-like nature of coral reefs.
4. Make a Break for It
Sid, an octopus who was held captive in New Zealand, had been successful in escaping from his tank multiple times and even stayed in a drain for five days in an effort to hide before yet another escape attempt. (Previously, another octopus named Harry had escaped from the same tank and was found on a staircase.) Sid's actions were so overt that the aquarium finally released him back into the wild. A spokesperson for the aquarium said, "He was one of the octopus[es] that escaped every moment he got, we had to tie the doors shut to keep him in. He could fit through a gap about two inches wide." Aquarium officials think Sid was at an age that made him anxious to mate in the wide ocean. Good for Sid!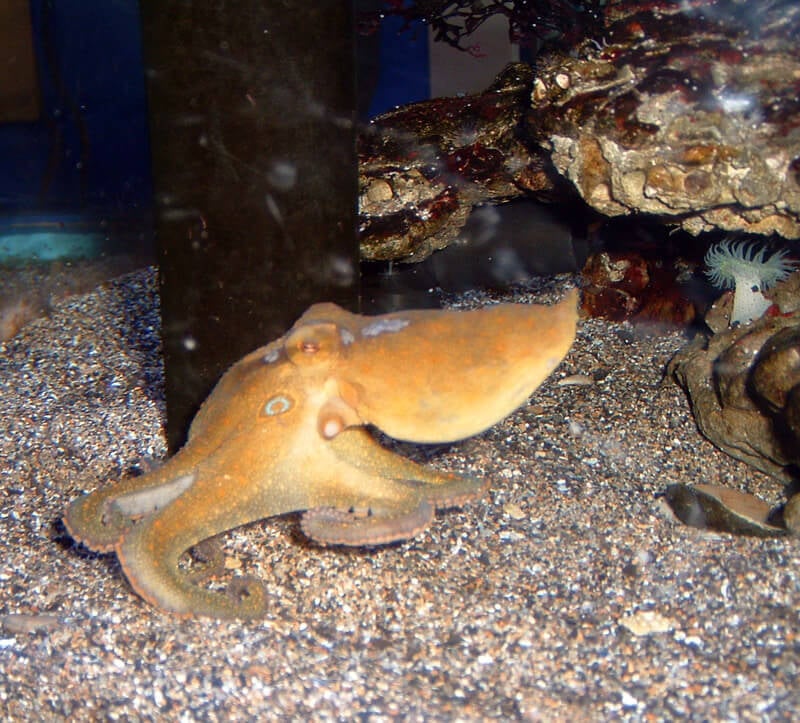 5. Squirt Your Captors
Another way to communicate your discontent and make headlines at the same time is to simply squirt your captors and aquarium visitors. Octopuses hold water in their bodies in order to soak up oxygen, and they can squirt it out by essentially exhaling. An octopus in Dorset, England, was aptly named Squirt after learning this technique. He now soaks both visitors and employees every time they pass by his tank. At the National Marine Aquarium, an employee explained, "The cheeky ones seem to have fun squirting their keepers in the face at every opportunity …. Rocky our Giant Pacific Octopus is getting [to be] quite an expert at this."
If you find octopuses as fascinating as I do, you'll love learning more amazing facts and reading more inspiring stories about animals in the bestselling book Animalkind.
As an Amazon Associate, PETA earns from qualifying purchases. If you buy something after clicking the Amazon links on this page, a percentage of the qualifying purchase will be donated to PETA and help us protect more animals from exploitation.