Grammy-nominated and Billboard Music Award–winning soulful R&B singing sensation Mario has been climbing the charts with his new album, D.N.A., and now he is stepping up to do his part for animals by posing for our provocative "Ink, Not Mink" campaign. The multitalented Baltimore native exposes his "Soul Truth" tattoo and encourages his fans to "[b]e comfortable in your own skin, and let animals keep theirs," with this sexy ad.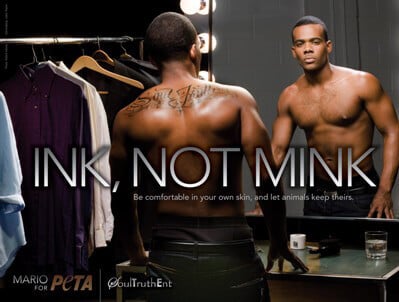 Behind the scenes at the photo shoot, Mario talks about learning the ugly truth about cruelty in fashion and why he chooses not to wear any fur. "Every piece of fur that you see out there and people wearing, there's an animal [who's] lost … his or her life." This realization prompted him not just to give up wearing fur but also to pass up opportunities to profit from the suffering of animals. In the video, he tells us, "I've been offered deals to wear fur … for tour and for stage." But Mario proves with this ad that he'd rather go shirtless than steal the skin of a beautiful animal. Find out what else Mario had to say in PETA's exclusive interview video:
The singer joins a growing list of cruelty-conscious celebrities who have vowed never to wear fur, including fashion-column favorites, like Eva Mendes and Khloe Kardashian, and other tattooed PETA supporters, such as motocross-champion turned tattoo-entrepreneur Carey Hart and rocker Tommy Lee. They have seen the videos and know the reality of the fur industry, in which animals are often killed by neck-breaking or anal or genital electrocution.
Join Mario and other compassionate celebrities by pledging to be fur-free today!