A Happy Ending for Lucy and Peggy
After a PETA investigation, Lucy, Peggy, and more than 200 other rabbits were rescued from filthy, cruel conditions at a Maryland hoarding facility. Follow these sweet souls as they go home, feel grass beneath their feet, and hop around.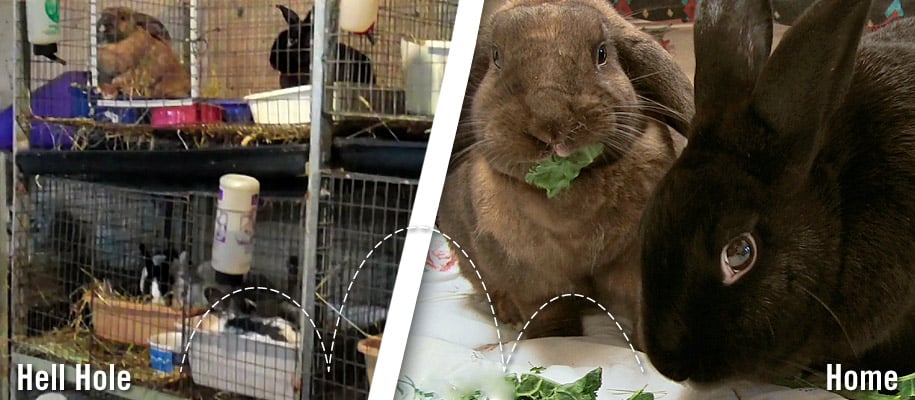 Peggy and Lucy were among the more than 250 rabbits kept in cramped, stacked cages inside Bunny Magic Wildlife & Rabbit Rescue, Inc., in Lusby, Maryland. Bunny Magic—really a hoarding facility—masqueraded as a "no-kill sanctuary."
In 2012, after receiving a wonderful whistleblower's tip, PETA found that Bunny Magic consisted of little more than a garage, which reeked of ammonia, and a dark, filthy shed. Rabbits are fastidiously clean, yet Peggy, Lucy, and the rest were kept in up to 4 inches of their own droppings and urine.
The rabbits received scant attention, and their nails became overgrown and curled dangerously back toward their sensitive foot pads. The hoarder's rabbits were denied needed veterinary and nursing care. One rabbit, Rockette, suffered from a severely twisted neck and would struggle to stand up, usually falling back down. She was left helpless, lying in her own waste—until she finally died.
Another rabbit, George, had a months-long respiratory infection that filled his throat with pus. He was rescued but could not be saved. A veterinarian recommended that George be put out of his misery. Some rabbits had abscesses, or pockets of pus. One rabbit had mucus and debris stuck to her nose and was in too much pain to bear any weight on her foot.
The hoarder's freezer was crammed full of rabbits who had died.
Based on PETA's evidence, a warrant was obtained to seize the rabbits, and on August 8, law enforcement officers pulled up to the house and took the rabbits out. The owner of Bunny Magic was convicted of cruelty to animals.
Peggy, Lucy, and hundreds more like them were given a new lease on life. After their veterinary examinations, Peggy and Lucy were able to breathe fresh air, stretch their legs, and enjoy fresh kale, bananas, and carrots.
And once in their adoptive home, they felt grass beneath their feet, perhaps for the first time ever. As they explored their vast new surroundings, they ran around and leapt into the air. Peggy and Lucy were given their own room in which to settle, with many toys and treats.
Finally, Bunny Magic's victims have a real home and someone to love them forever.
Help us spread the good news! Share these rabbits' story with your friends and family on Facebook and Twitter now.
Peggy and Lucy's rescue would not have been possible without the support of caring PETA supporters like you! Please help us save more animals by supporting PETA's Investigations & Rescue Fund today.
The rabbits were saved only because a courageous whistleblower spoke up, reminding us that we should never be silent when animals are in trouble.
Finally, please be sure before adopting any animals that you're ready to make a lifetime commitment to caring for them. Beware of hoarders pretending to operate so-called "no-kill" rescues or sanctuaries who promise to care for unwanted animals but instead will only subject them to prolonged suffering and a slow, miserable death. If you take an animal to a shelter, make sure it's operated responsibly.