Update: On August 20, Carole Van Wie, the operator of Bunny Magic Wildlife & Rabbit Rescue, Inc., was charged with 13 counts of cruelty to animals. The charges follow an August 8 raid on the facility—prompted by a PETA complaint—in which law-enforcement officers seized 222 rabbits. Officials reportedly had to don masks to rescue the flea-infested and sick rabbits from up to 4 inches of feces and urine. Investigators apparently found one rabbit dead in a cage and others denied food or water. According to news sources, seven of the rabbits rescued that day could not be saved.
Originally posted August 8:
Welcome news! Today, many, many rabbits are being removed by Calvert County, Maryland, officials from what could be called a sham "sanctuary," Bunny Magic Wildlife & Rabbit Rescue, Inc., in Lusby. The seizure was prompted by evidence gathered by PETA of systemic—and sometimes fatal—neglect of animals at the "rescue," following a whistleblower's tip-off.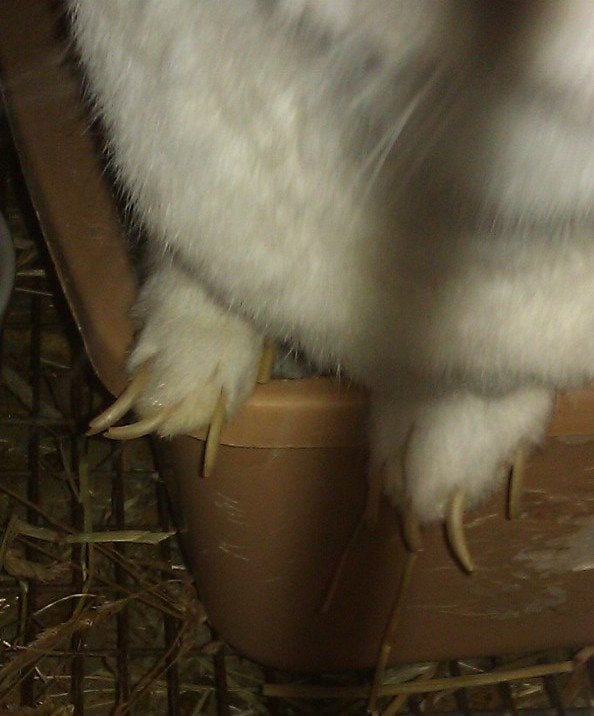 Many neglected rabbits' nails were overgrown. Some caught on wire cage bottoms while others curled dangerously toward the animals' sensitive feet.
Disgusting Filth, Disease, and Death
PETA submitted evidence and a detailed complaint to Calvert County Animal Control and State's Attorney Laura Martin's Office, which has opened a criminal investigation into Bunny Magic, run by President Carole Van Wie. We thank law enforcement for acting promptly and PETA Investigations & Rescue Fund donors for providing us with the resources needed to follow up on the whistleblower's tip.
PETA found that Bunny Magic consisted of little more than Van Wie's garage, which reeked of ammonia, and a dark shed that was overrun with rodents. It had no paid help to care for its more than 200 rabbits and other animals. Van Wie deprived rabbits of needed veterinary care and left contagious animals in contact with others, risking the spread of disease. Photographs show that Bunny Magic was little more than a hoarding facility, amassing far more animals than it could properly care for.

Dead rabbits crammed into a freezer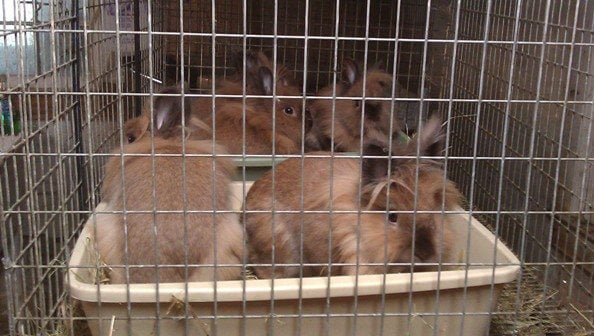 Scores of rabbits kept in cramped, stacked cages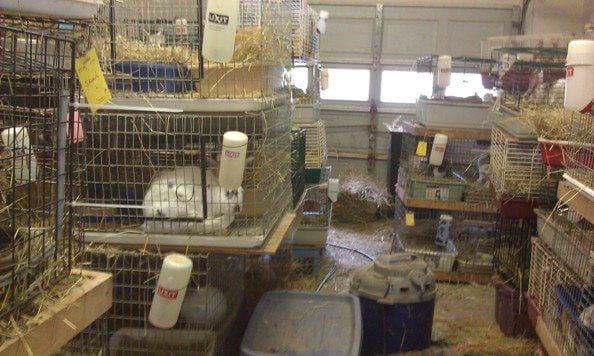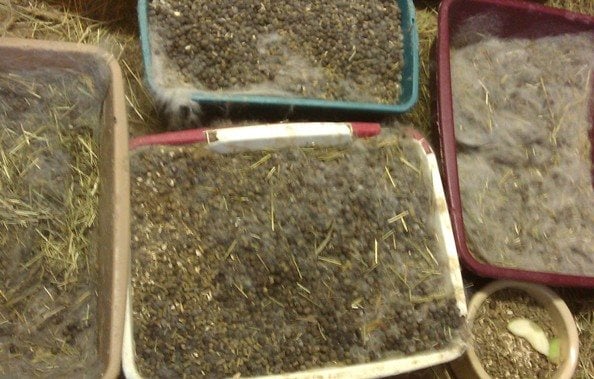 Rabbits (who are fastidiously clean animals) were unable to avoid stepping in their own feces, which was allowed to accumulate for days
One neglected rabbit, Rockette, suffered with a severely twisted neck, struggling to stand up on her own; she was denied nursing and veterinary care and left to languish and defecate on herself until she finally died. Another rabbit, named George, who had a months-long respiratory infection that filled his throat with pus, was rescued from Bunny Magic before PETA met with officials but could not be saved. A veterinarian recommended that George be put out of his misery.
What You Can Do
The rabbits are being rescued only because a courageous whistleblower reported how horrified he or she was by Bunny Magic, reminding us that we should never be silent when animals are in trouble.
Please be sure, before adopting any animals, that you're ready to make a lifetime commitment to caring for them. Beware of hoarders pretending to operate so-called "no-kill" rescues or sanctuaries who promise to care for unwanted animals but instead will only subject them to prolonged suffering and a prolonged, miserable death. If you take an animal to a shelter, make sure it's operated responsibly.
Victories like this one are made possible in part through the generosity of PETA Investigations & Rescue Fund supporters. To learn more about this vital fund and how you can support the rescue of more animals, click here!