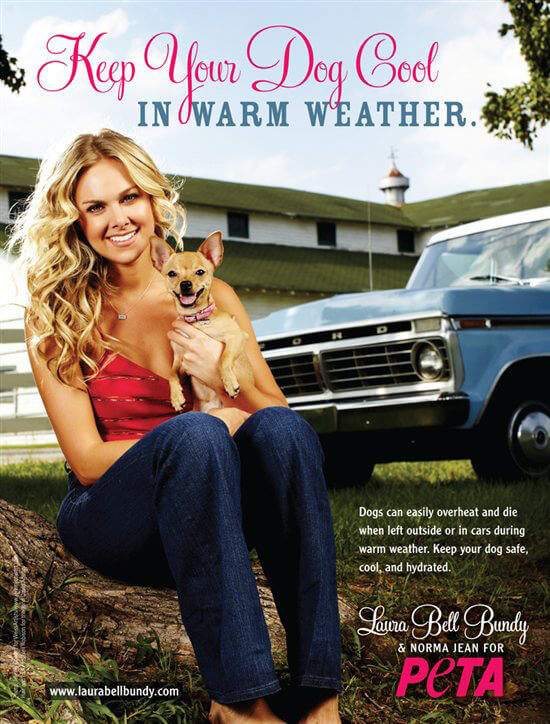 Laura Bell Bundy lights up the screen and stage as an actor, country singer, and Broadway star. Now, dogs everywhere will be barking the praises of Bundy because this crooning cutie's latest role is promoting dog safety in a public service announcement for PETA. Laura Bell and her adopted Chihuahua, Norma Jean, star in a beautiful print ad and video to warn dog guardians about the dangers of leaving dogs in cars during warm weather. The ad was shot by Jeremy Cowart.
Watch an exclusive behind-the-scenes interview with Laura Bell Bundy from her PETA photo shoot here!
Each year, thousands of dogs suffer and die when their guardians make the mistake of leaving them in the car while running a quick errand. On why she chose to take part in this campaign, Bundy says, "[I]t was important for me to protect dog safety and to also, for me to actually be aware of the realities of leaving a dog alone in a car during the warm weather. It's, it's pretty intense, and people need to know about it."
https://www.youtube.com/watch?v=79JF0tnXyzE
On the average summer day, the temperature inside a parked car can reach more than 100 degrees within minutes—even when the car is parked in the shade with the windows rolled down. Animals can suffer brain damage or death from heatstroke in just 15 minutes. Beating the heat is extra tough for dogs because they can only cool themselves by panting and sweating through their paw pads.
If you see a dog left in a car, write down the car's color, model, make, and license-plate number. Have the owner paged in nearby stores, and call local humane authorities or the police. Whatever you do, do not leave the scene. If you cannot track down the dog's guardian, the police are taking too long, and the dog appears to be in imminent danger, do whatever it takes to get the dog out. His or her life depends on it. (Learn the symptoms of heatstroke here.)
Be a dog defender and sign up to receive a "Too Hot for Spot" online action kit to help save dogs from deadly heatstroke!
By submitting this form, you're acknowledging that you have read and agree to our privacy policy and agree to receive e-mails from us.