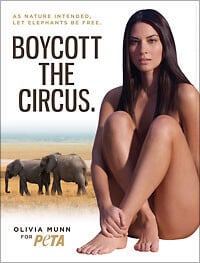 From hosting G4's Attack of the Show! to appearing in summer blockbusters Date Night and Iron Man 2, Olivia Munn is entertaining audiences all over the globe. Olivia also has a soft spot for animals and was shocked to learn that elephants used in circuses are torn from their mothers at birth and bound and electro-shocked as babies in order to break their spirits.
Elephants used by Ringling Bros. and Barnum & Bailey Circus are beaten, hit, poked, prodded, and jabbed with sharp hooks, sometimes until bloody. When they are not performing, elephants—who walk up to 30 miles a day in their natural environment—spend their time in chains as the circus travels from city to city.
Please join Olivia in helping to stop cruelty under the big top and spread the word about this important issue to everyone you know!