Just in time for the first summer heat waves, Laura Bell Bundy and her adopted dog, Norma Jean, are starring in a new PETA ad and PSA, warning people about the danger of leaving their dogs alone in a car in warm weather.
In an exclusive interview with PETA, the multitalented country singer, TV and Broadway star, and "Cooter County" denizen talked about why she feels that getting the word out about this issue is so important. "[P]eople need to know about it," she explained. "They leave their dog alone in the car unintentionally thinking it's OK if they go inside the grocery store for five minutes, but … it's a hot car, and you wouldn't want to be left alone in there, either."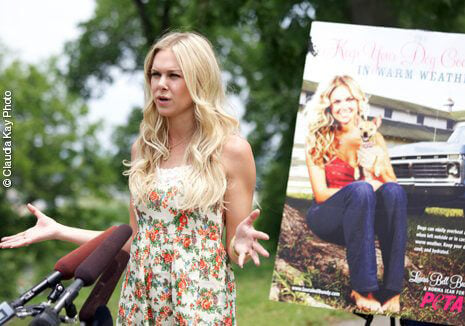 Laura Bell Bundy unveils her new PETA "Keep Your Dog Cool" PSA
Even on a mild day, the temperature inside a car parked in the shade can top 100 degrees in a few minutes. A dog left inside is at risk for heatstroke, which can cause brain damage or even death in just 15 minutes.
If you see a dog left alone in a hot car, please contact your local animal control or police department immediately, and do not leave until help arrives. PETA has "hot dog" leaflets available that can be placed on cars to remind people that dogs and hot cars shouldn't mix.

Written by Michelle Sherrow