Easter is no celebration for hens on a filthy egg farm in Oklahoma that's operated by Mahard Egg Farm, a company owned by Cal-Maine Foods, Inc. Despite being fully aware of the horrors documented below, which were revealed during a PETA investigation, Cal-Maine hasn't taken any meaningful actions to spare hens at Mahard operations even one more day of squalor and agony.
In 2018, we received a whistleblower tip that hens "looked like they were rotting alive" at Mahard. Our look into the farm—which keeps up to 1.2 million hens in 11 sheds—confirmed the whistleblower's account and much worse.
At Mahard, hens had no place to stand, sit, or lie down except on the wire flooring of the cages, which digs into their feet.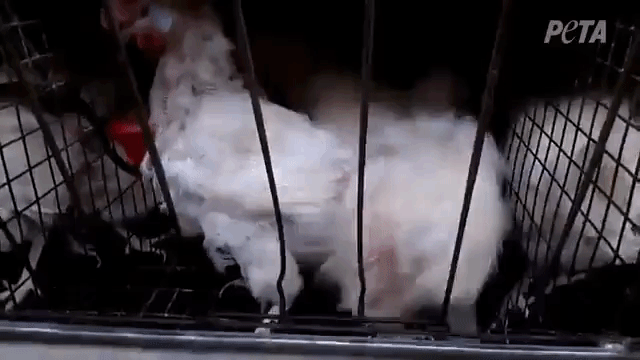 Many suffered from a prolapsed vent, which is a painful, sometimes deadly condition that can be caused by a poor diet or the strain of excessive egg-laying.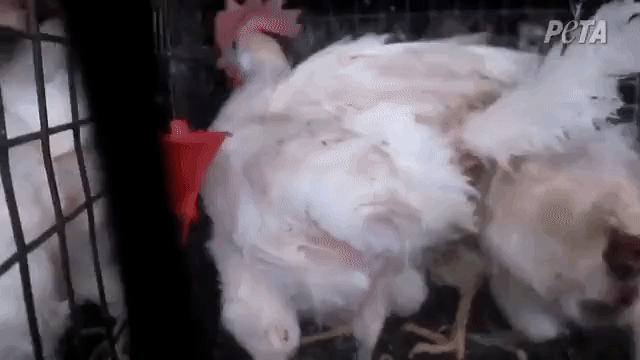 Hens—clean, fastidious animals who need to preen and take regular dust baths—were packed so closely together that they had no choice but to urinate and defecate on one another.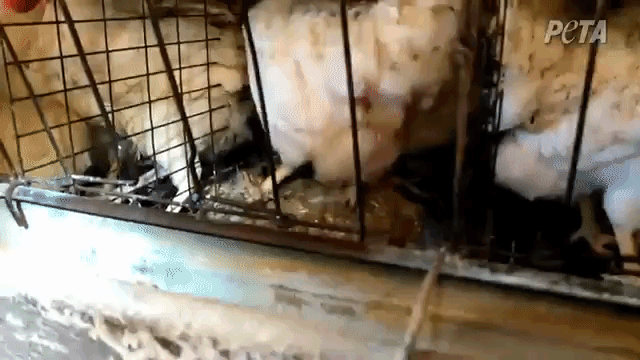 Mahard workers repeatedly denied sick and injured hens the care they needed. On one occasion, our eyewitness discovered a hen's leg stuck in a cage. The eyewitness untangled the hen and reported that her leg was likely broken …
… and a worker indicated that the hen would be taken care of the next day. But the farm supervisor had to be told that the bird still needed help a day later. The eyewitness provided the dehydrated, thirsty hen with a drink …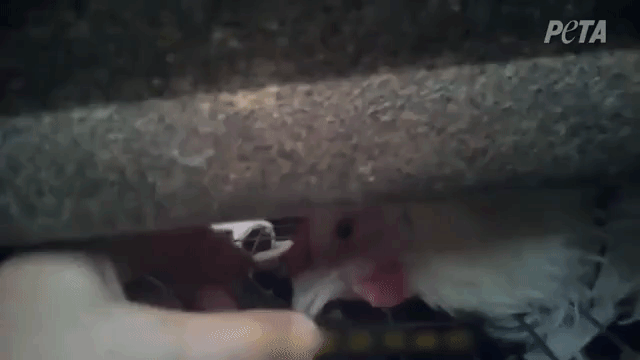 … but a worker proceeded to grab the frightened bird, pull her out of her cage by a fragile wing, drop her on the floor, and leave her there to die.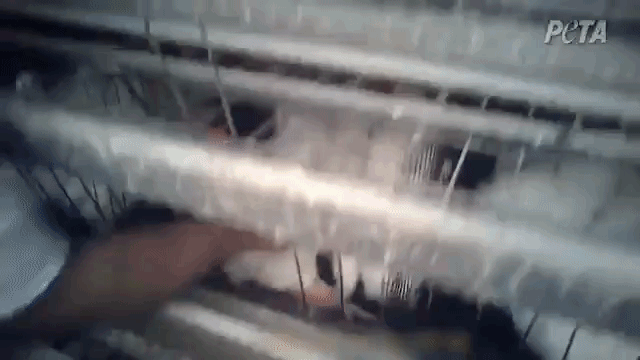 During a few particularly gruesome days, workers yanked more than 49,000 unwanted hens out of cages, beat many of their heads against metal boxes, stuffed them inside the boxes …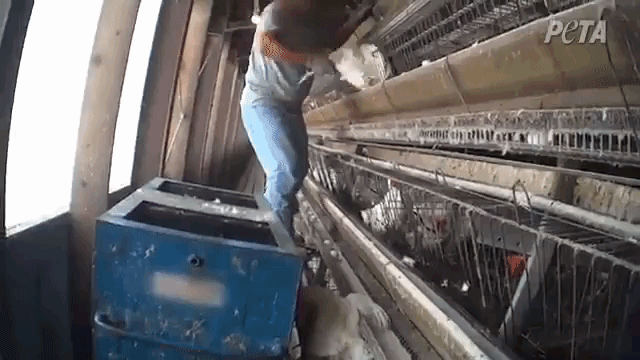 … and then crudely gassed them with carbon dioxide, which can cause extreme pain. Countless hens survived the abuse and were then dumped into trucks, so they were beaten again with a piece of wood or slammed against the trucks.
Other dead chickens littered the floors …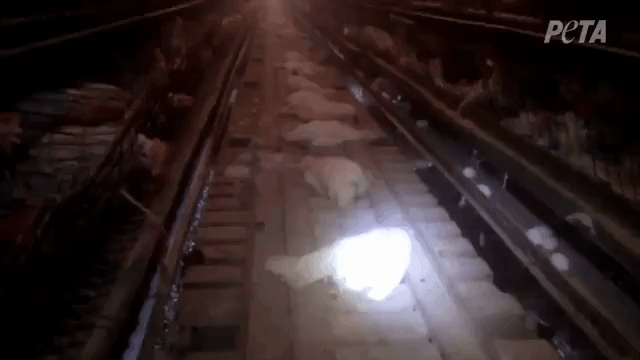 … as did piles of feces that were up to 5 feet high.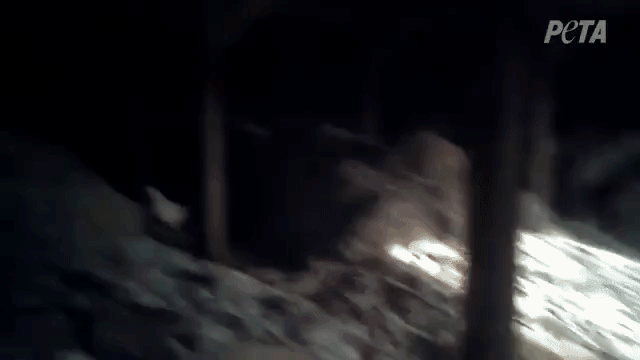 Some hens had died and begun to decay inside the cages.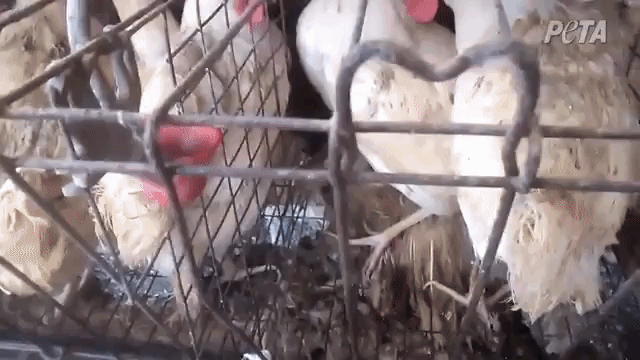 The survivors were confined alongside their rotting cagemates for days on end, which exposed them to disease and put them at risk of infection as their eggs rolled around in the disgusting cages, ultimately headed for grocery store shelves.
Now you know—taking eggs from hens is dirty, deadly business.
So ask yourself: Isn't this hen's life more important than a few Easter eggs or an omelet?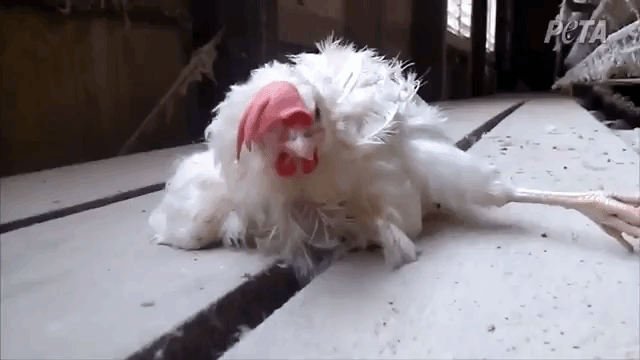 The only acceptable answer is yes. Chickens are inquisitive, interesting animals whose cognitive abilities are on a par with those of cats, dogs, and even some primates. They're not here to make eggs for humans to eat. They're not here for us to use at all.
Do Something Kind This Easter and All Year Long—Help These Hens
The best thing that you can do for hens is to refuse to buy their eggs and flesh. Don't be fooled by "cage-free," "free-range," or "pasture-raised" labels—multiple other PETA investigations have revealed that there's no such thing as humane egg production. Chickens suffer whenever they're used for profit, and male chicks are killed, no matter what labels on egg packages say. With so many delicious and healthier options, it's never been easier to leave animal-derived foods off your plate entirely.
Click below to do more for hens—urge Cal-Maine to take meaningful action to spare hens agony at Mahard operations immediately: