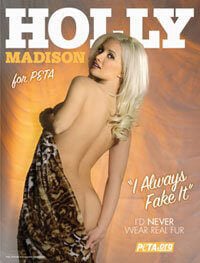 You might see Playboy model Holly Madison, star of the E! hit reality show Holly's World, wearing bunny ears, but one thing you'll never see her in is bunny fur—or any animal's fur, for that matter. Holly is so passionate about saving animals killed for their fur that she posed naked for not one, but two new PETA anti-fur ads!
You may have already seen her "I'd Rather Go Naked Than Wear Fur" ad, but now we present you with Holly's second provocative ad, in which she declares: "I Always Fake It—I'd Never Wear Real Fur."
It's no wonder that Holly, who adores all animals, especially the lucky pups currently bunking with her—was outraged when we told her that animals, including cats and dogs, are kept in tiny cages and strangled, beaten, electrocuted, and often skinned alive for their fur.
Holly's philosophy? "You don't need fur. And if you want the look of fur … there's faux fur," she says. "There is just no reason for it."
As Holly knows, nice girls—and guys, too!—always fake it. With so many beautiful and warm faux furs available, there's no reason—or excuse—to kill animals for their fur.