Judy Greer has made us laugh in films like 13 Going on 30 and TV shows like Arrested Development, but she's letting Hallmark know that exploiting chimpanzees on greeting cards is no laughing matter. Judy sent a letter to Hallmark CEO Mike Perry asking him to have a heart this Valentine's Day and pull all cards with demeaning images of great apes from the company's stock. Hallmark is the last major company still selling these belittling cards, so what's it waiting for?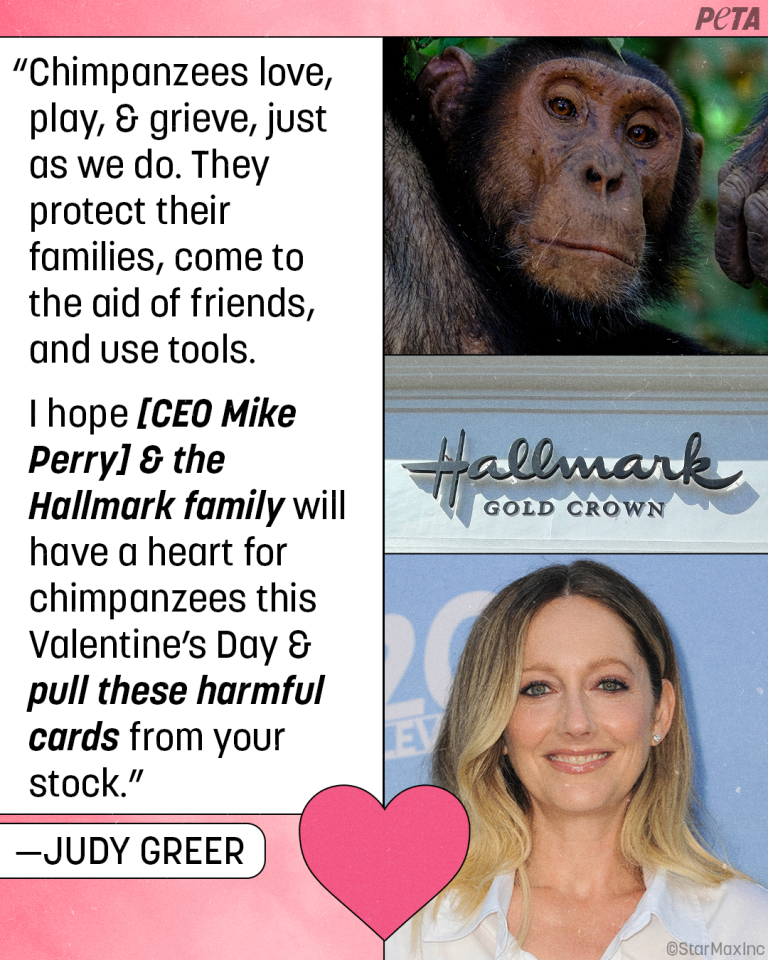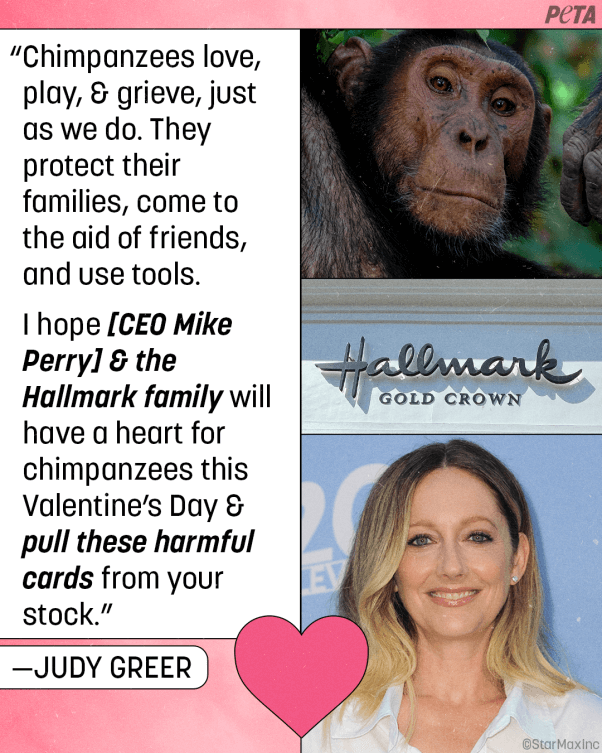 For decades, Hallmark has been profiting from clownish images of chimpanzees featured on many of its greeting cards. Renowned primatologist Dr. Jane Goodall has explained that the "smile" exhibited by chimpanzees on these cards is actually a fear grimace, which is a sign that they're deeply afraid.
Portrayals of chimpanzees in human clothing and unnatural poses hinder conservation efforts by misleading the public into believing that the species—which may face extinction within our lifetime—is thriving. They can also increase the black market demand for great apes as "pets," which is one of the main forces driving them toward extinction.
"Film and TV producers have gotten the message that great apes don't deserve to be treated as props for entertainment, as real chimpanzees are no longer used in Hollywood. Major card companies like American Greetings and retailers such as Rite Aid and CVS have also taken action to help these animals by removing the inappropriate images."

—Judy Greer
American Greetings, the world's second-largest greeting card company, has stopped selling these harmful cards; Rite Aid and CVS are among the retailers that are removing them from their shelves; and many top stock-image agencies—such as Getty Images, Shutterstock, and Dreamstime—are banning the commercial use of images of primates in human costumes and poses. PETA is asking Hallmark to get with the times and stop selling these offensive cards.
Join Judy and Tell Hallmark to Have a Heart and Stop Exploiting Chimpanzees
Chimpanzees need to be protected, not made the butt of a joke. Making a mockery of them is a form of speciesism—the misguided belief that some animals are less deserving of consideration than others because of their species. Join PETA and Judy in urging Hallmark to have a heart this Valentine's Day by making a significant contribution to the conservation work for endangered great apes by ending its sale of these cards: