The use of wool for fashion is hell for sheep and our living planet. (Just wait until you read about sheep "dip"—gross.) From climate change to water pollution to the eradication of wildlife, the wool industry is killing the Earth, just as the leather and fur industries are. Check out all the ways it harms our environment—see PETA U.K.'s shocking infographic:
Cruelty to Sheep
Sheep are gentle individuals who, like all animals, feel pain, fear, and loneliness. But because there's a market for their fleece and skin, they're treated like nothing more than textile-producing machines—and genetically manipulated to produce an unnatural amount of wool.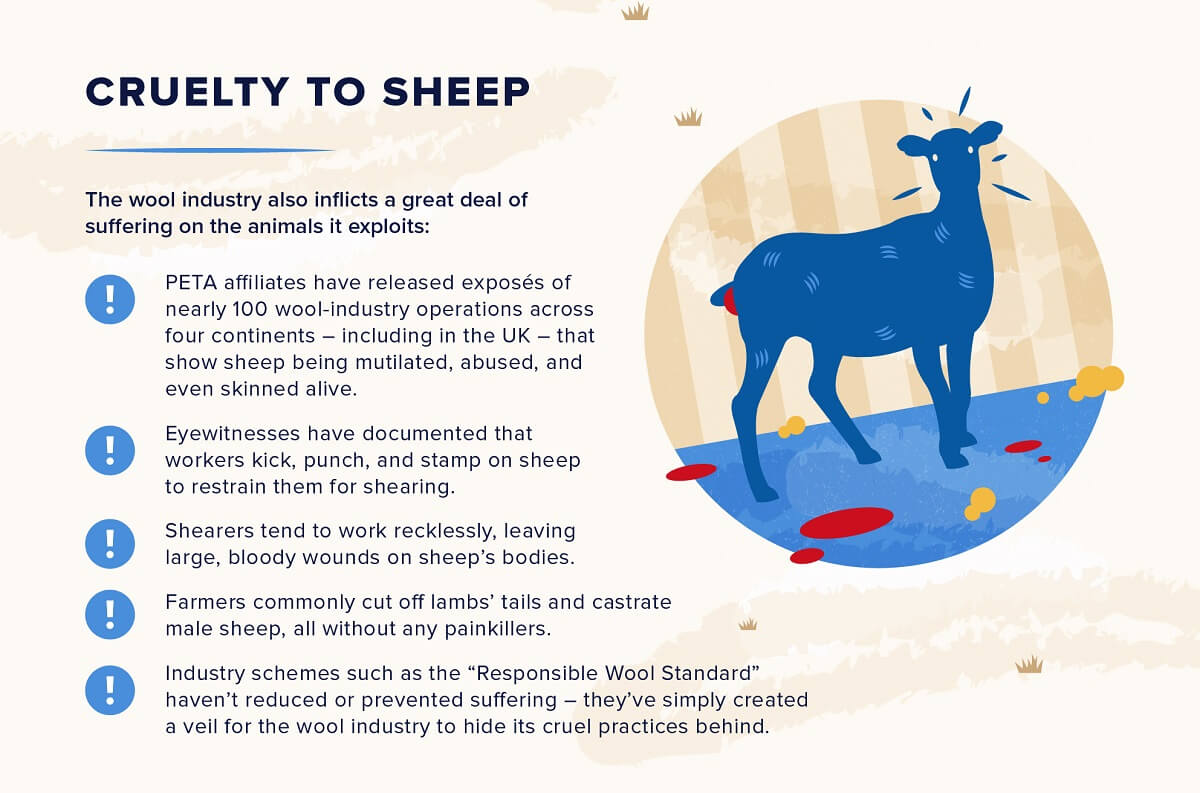 PETA has released 14 exposés of 117 sheep operations on four continents, revealing systemic abuse in the wool industry. Impatient workers have been caught punching, kicking, and stomping on sheep, some of whom die from their injuries. When the animals are no longer profitable to the wool industry, they're slaughtered.
Climate Change and Pollution
Sheep are second only to cows when it comes to producing methane. In New Zealand, methane emitted by animals—primarily sheep—accounts for over 90% of the country's total methane emissions.
Wool farming can also have detrimental effects on surrounding ecosystems. Studies have shown how sheep "dip"—a toxic chemical used to rid sheep of parasites—can poison nearby waterways and kill fish. The enormous flocks of sheep bred by the wool industry produce huge amounts of manure, which pollutes the water, land, and air.
Desertification and Wildlife Culling
Wool farmers clear massive forest areas to make room for sheep. Sheep grazing alters natural vegetation, causing soil erosion.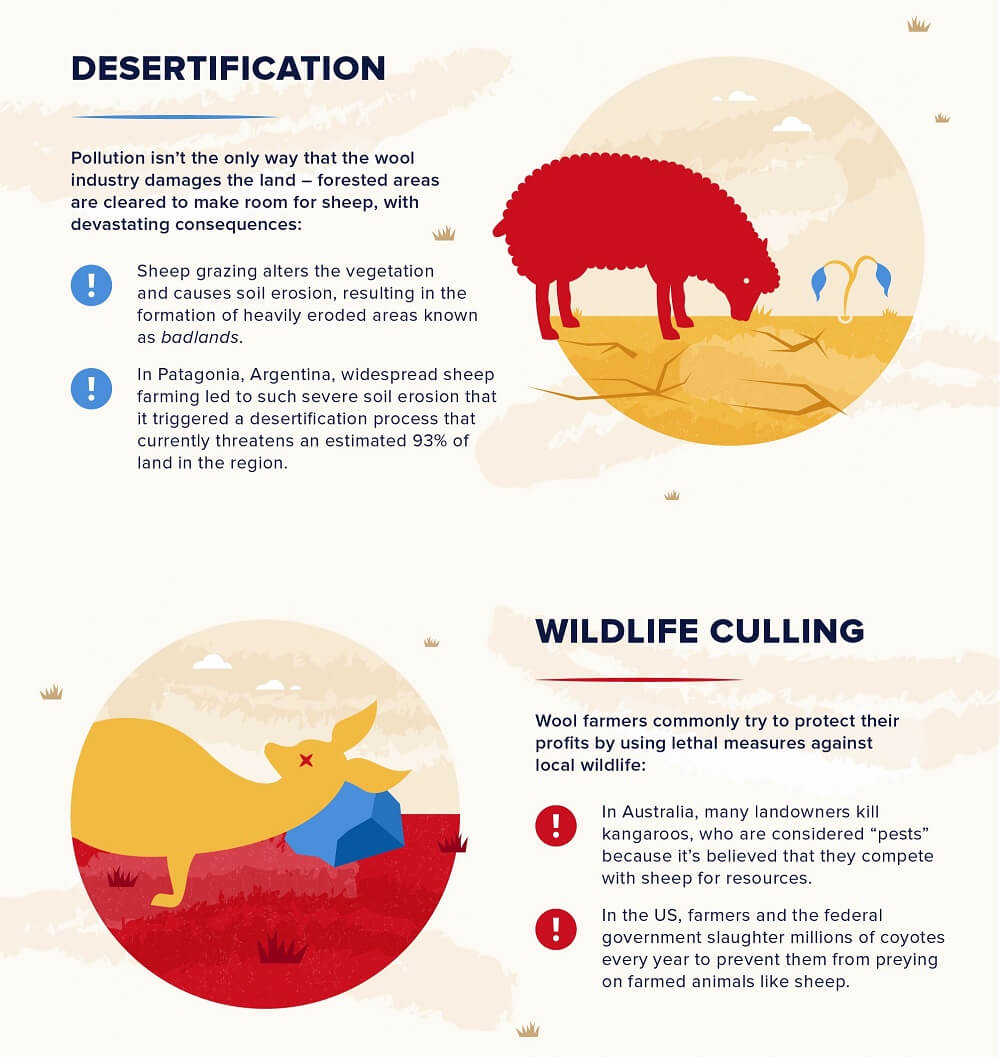 Wool farmers commonly attempt to protect their profit by killing local wildlife. In Australia, many of them kill kangaroos, who are labeled "pests" by landowners because it's believed that they compete with sheep for resources. In the U.S., farmers and the federal government slaughter millions of coyotes every year to prevent them from preying on farmed animals.
Choose Vegan Materials to Save Animals and the Earth
Instead of buying wool stolen from sheep, opt for vegan fabrics that perform better. Best of all, you'll prevent sensitive sheep from being punched, stomped on, mutilated, and even skinned alive. It's an obvious win-win situation for the planet and animals!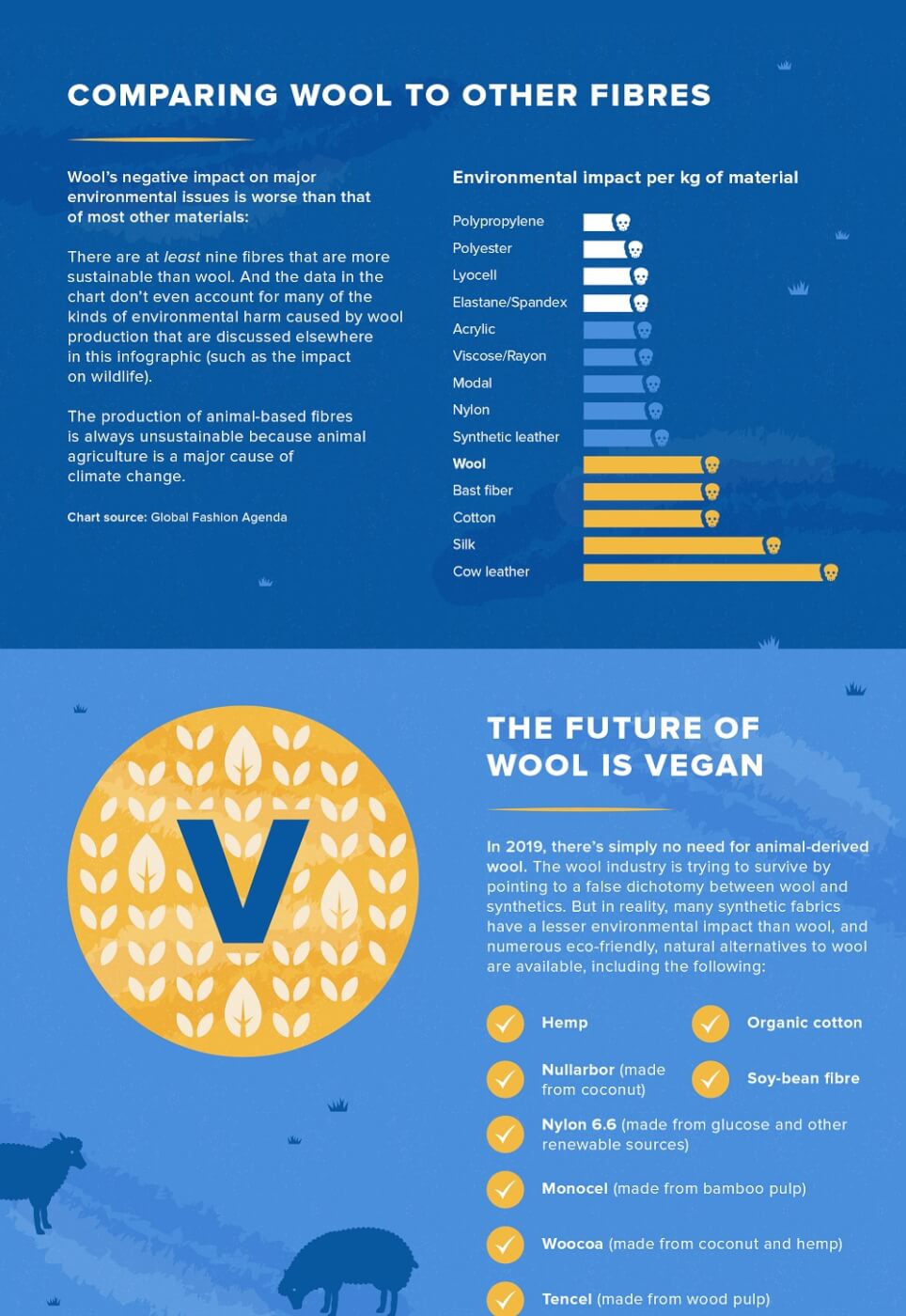 PETA is super-excited about the surge in vegan fashion, which combines scientific innovation and compassion. There are vegan wool knits made from plastic bottles and even from seaweed. Cool, right? Of course, there's always tried-and-true materials like organic cotton, bamboo, hemp, and acrylics. The point is that it's never been easier to wear vegan.
Need help making your closet more compassionate? Read up on animal-free fabrics in PETA's "How to Wear Vegan" guide.