Rapper, singer, songwriter, record producer, and vegetarian—these are just a few of the titles that Canadian hip-hop artist k-os can claim. As a platinum-selling artist, k-os is in the unique position of being able to use his voice as a beacon for change and to inspire fans to think critically about issues from social injustice to animal welfare. k-os has teamed up with PETA to star in a vegetarian testimonial in which he urges fans to live compassionately by going vegetarian. Check out k-os' ad for PETA, and then sign the pledge to go vegan!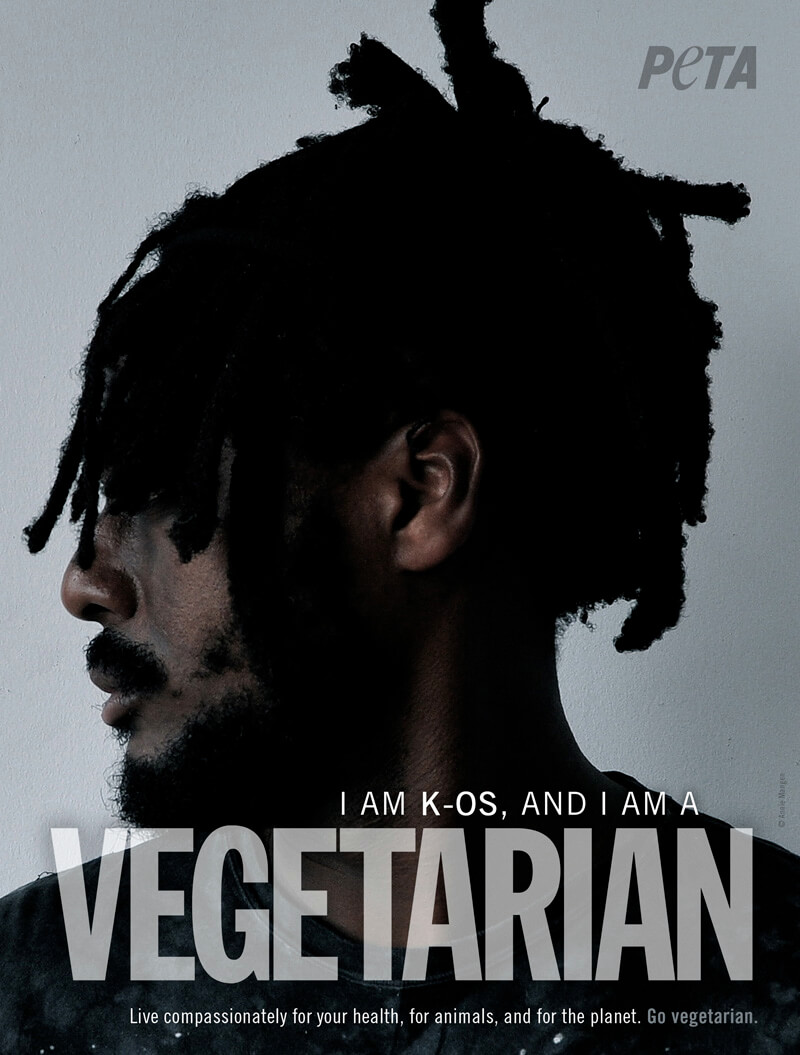 k-os is an artist who's known for actively fighting for social causes, so it only makes sense that he adheres to a meat-free diet. In the U.S. alone, more than 55 million animals are slaughtered for food every day. Prior to slaughter, these animals endure immense suffering on factory farms, where they are denied everything that is natural and important to them. They are forced to live on severely crowded feedlots or in cramped cages and are routinely denied veterinary care for broken bones and other serious injuries and illnesses. Slaughterhouse employees are also some of the most exploited workers in the country. In exchange for inadequate wages, they are subjected to dangerous working conditions and work under the constant threat of termination for reporting any wrongdoing. Human Rights Watch has consistently named slaughterhouse employment as "the most dangerous factory job in America."
A meat-free diet is the best thing that you can do for the environment, your health, and animals. In addition to saving the lives of more than 100 animals each year, you'll reduce your risk of suffering from a number of the nation's biggest killers, including cancer, heart disease, and strokes. And because factory farming is one of the leading causes of climate change, you'll also reduce your carbon footprint.
What are you waiting for? Pledge to go vegan today!