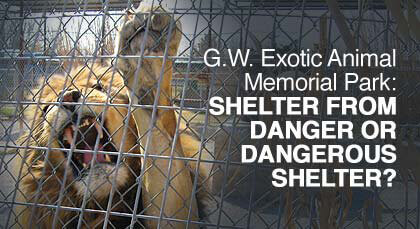 PETA found dead, dying, and injured animals as well as incompatible animals who attacked and harassed one another.
March 13: The 1-month-old lion was in the cage up front again today. Again, he seemed very upset and was crying out a lot. … The little cub had no water all morning and most of the afternoon.
March 13: One of the tiger cubs that had sustained puncture wounds from a male tiger right after birth died this morning due to the injuries. … I'm sure that he was in great pain  [and I believe that he was] not euthanized due to the money that the baby cub would bring the park.
March 16: There are two baby lions [Floppy and Casey], just over a month old, that [J1] left at the park for the "play cages," where customers can get in … and play with them. They both have the deformed paws [possibly] from the mother's malnutrition during pregnancy. … At one point, Floppy's paws started bleeding a lot—they had opened up where she was declawed. … Floppy was crying and screeching in pain. Employees stood around joking about it.
March 19: Todd, a fox, lives in an outdoor cage. … It was chilly and pouring out all day, and Todd was shivering and seemed upset.
March 21: [L]ast Wednesday, they found one of the park's deer dead in an enclosure. [S1] said he basically had defecated himself to death because he had eaten bad food or something like that.
March 23: Roo, a wallaby, died today. … When he was found, he was lying in the pond that is in his enclosure. It was near freezing temperatures, and people were hypothesizing that he had gotten stuck in the mud around the pond, fell in the freezing water, and died from hypothermia. [J1 said] that he found another wallaby, and he will be here in a few weeks. He will probably keep the same sign and pretend he's the same animal.
March 25: One of the caged raccoons is seriously injured, [possibly] from fighting with another raccoon in her cage. … There was a gash in her side about 2 to 3 inches wide and very deep. [F] said that when she moved you could see her intestines.
March 25: One of the baby bears that was on the road show died, within the last day or so. … [I suspect that] his death was due to being pulled from his mother at such a young age, working extremely long hours, and lack of nutrition.
March 29: Elmo, a grey fox, had been just laying there not eating or moving. … His ears were infested with mites and he had several ticks on him.
April 1: Toward the end of the night, there was a pig who was found to be dead … in the pasture.
April 3: Two tiger cubs and two bear cubs all died while on the road. … [S2] said today that she thought it may have been stress that killed them.
April 7: Today, there was a fight among the lions. … Dylan is obviously hurt; he had several puncture wounds in his legs and one on his testicles. He could barely walk—these were deep punctures. … [J1] didn't seem too concerned and did not seem like he was going to get veterinary care for Dylan.
April 13: [The neighbors] said occasionally when they go out to feed their horses, they see a monkey sitting out there, and he asked if we lost a monkey. [D1] said yes, [F] had lost one a handful of months ago. … He was donated to the park by someone, and this guy came to visit his monkey very frequently. [D1] said that they told him that his monkey had died.
April 14: Keegan, a 10-week-old bear cub died last night. … [J1] told me that Keegan had so many [kidney] stones in his penis that his kidney burst, and when the vet cut him open, urine poured out everywhere.
April 20: Humphrey, the camel, almost hung himself in his cage. … This is because of unsafe living quarters.
April 20: The four big bears that we moved to the back are not adjusting too well at all. …  Honey was still pacing next to the fence wall in the same spot she has been in, and Teddy was doing the same thing he was doing a few days ago—standing in the same place, looked agitated, and pounding his foot into the ground.
April 21: Honey and Teddy are two of the bears we moved a few days ago. Honey does not allow Teddy to move too much—she always backs him up into his house. He tried to come out to get a drink of water today, but she acted mad and drove him back.
April 26: JoJo (male chimp) and Peanut (male baboon) are still fighting back and forth with each other. … This has been going on for a long time now, and they are obviously too incompatible to be within reaching distance of each other.
April 28: [Honey] is a nursing mother wolf [hybrid]. She is extremely skinny, and her ribs show through. She seems very unhealthy.
April 29: Last week, it got too cold for [the skunks], and one of them was found dead. [J2] said that when they found him, he was already half decayed.
May 17: [Two tigers] have ringworm, but they still do the play cages. I asked [K] if they tell people that these animals have an extremely contagious fungus, and she said no. She said that if a customer sees it and asks what it is, they tell them that the cat was rubbing against the cage/AstroTurf so much that they lost their hair in that spot.
May 23: Two new lynxes were brought in today, but they came from Russia—a four-day trip with no food or no water. One of them was dead when they arrived, and the other was barely clinging to life.
May 27: In the catch pen where [the tiger] was kept for [20 hours], in the 100-degree heat, there was no water for him to drink. … [W]hen I shift[ed] him back, he [ran] straight for the water trough. He proceeded to take about a five-minute-long drink.
May 27: There were four baby raccoons who were only a few weeks old. [J1] took three and keeps them on the road. [L] took the fourth one and put him in the medical building, but didn't tell anybody. It was discovered today that the poor baby raccoon had been stuck in there for a few days with no food and no water.
June 8: [Two bears] had been stuck in half of their cage for around 24 hours in 100-degree weather with absolutely no access to water. … I let them into the side with the water dishes. They both took a drink for about five minutes.