Famke Janssen has played a voluptuous Bond girl in GoldenEye, a transgender femme fatale on the hit show Nip/Tuck, and sexy superhero Jean Grey in the X-Men trilogy (costarring fellow "mutants" Hugh Jackman and Halle Berry). But it was her PETA "picture"—alongside her adorable costar and canine companion Licorice—that allowed the sexy actor to show off her angelic wings and "swing" into action for animals in PETA's popular "Be an Angel for Animals" campaign.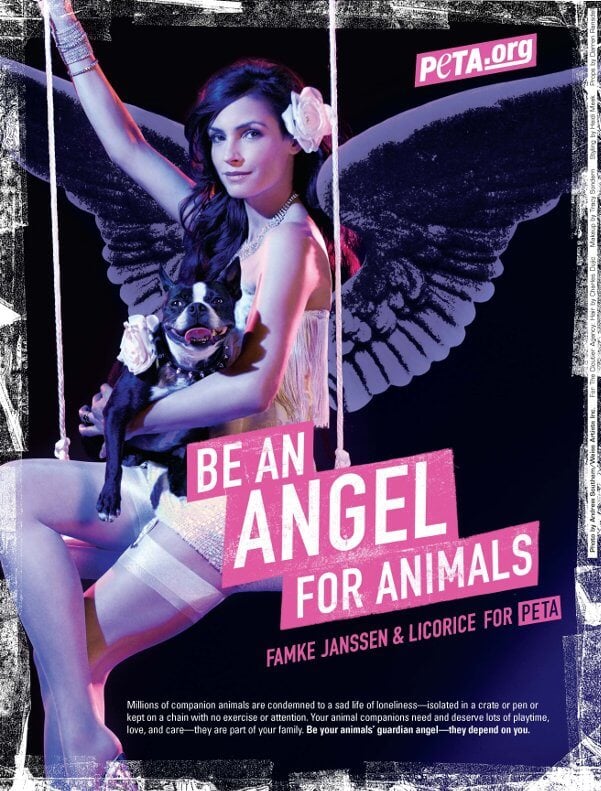 Famke, who has also appeared in the movies Made, House on Haunted Hill, Rounders, and many others, makes sure that Licorice gets the star treatment, but other animals aren't as fortunate. Every day, millions of dogs and cats suffer from cruelty and neglect.
With your help, it doesn't have to be that way. Ready to earn your angel wings? The following are ways that you can be an angel for animals today:
Spay or neuter your animal companion. The single most important thing we can do to save animals from the suffering and death caused by animal overpopulation is to spay and neuter them.
Stop and smell the fire hydrants. Take your dog for at least one long, leisurely walk every day. Use a neck-saving harness instead of choke, prong, or pinch collars, and make sure that your dog always wears identification tags. Don't make your dog stay in a crate—that's no life for "man's best friend."
Set aside quality time. Yes, there is a furry face between you and the TV, but that face has been waiting all day for a scratch behind the ears. Stop yourself from pushing your dog or cat out of the way, and get down on the floor to play with your pal.
Declare a "winter watch" for animals. During the cold winter months, dogs left outside can suffer from frostbite and exposure—and dehydration when water sources freeze. They also endure stress and loneliness. Encourage guardians to keep their dogs inside, and make sure that outside dogs have adequate food and water.
Report cruelty to animals. If you think that an animal is being abused or neglected, it is important that you do something about it. Your involvement may be the animal's only hope. Refer to our guide for more information about what you can do if you spot cruelty to animals.
Adopt a homeless animal from a shelter. Forget buying an animal from a breeder or pet store. People who breed dogs and cats make a profit at the expense of homeless animals who must then be euthanized. They take potential homes away from the dogs and cats who are desperately waiting at an animal shelter or roaming the streets. If you have the time and resources, adopt a homeless animal and save a life (or better yet, two).