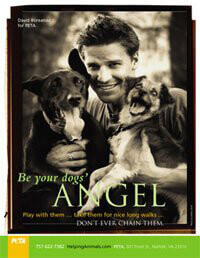 David Boreanaz stars in PETA's 'Angel for Animals' ad campaign along with his dogs, Fritz and Bertha Blue, including the tagline "Be your dogs' angel. Play with them … take them for nice long walks … don't ever chain them."
Every day, millions of dogs are left chained and unattended in backyards across the U.S., shivering in the cold or panting from the heat, often with no more than a shoddy, makeshift shelter to protect them from the elements.
Living day after day in isolation causes loneliness and distress for these social, pack-oriented animals.
You Can Help:
Click here to learn more about chained dogs.
You can improve the lives of dogs and cats suffering from cruelty and neglect. Click here to support PETA's work for companion animals.