Sarah Jeffery has made a name for herself in the acting world, working with the likes of Jennifer Lopez on NBC's Shades of Blue and with the stellar cast of Disney's megahit TV movie Descendants. Now, this talented actor is also an angel for animals!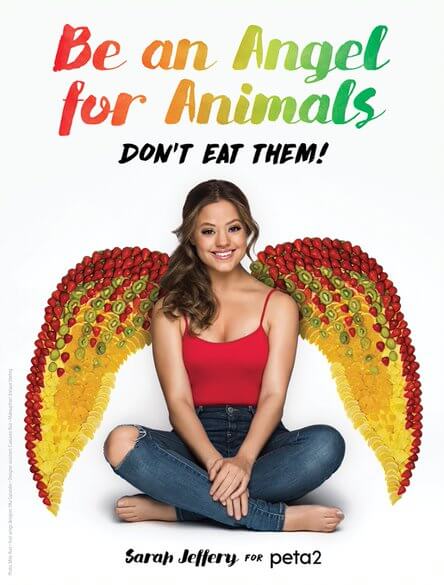 Sarah has been extremely open about her compassionate choice to go vegan. Now, she wants to keep it real with those who are curious about making the switch. Sarah partnered with PETA to discuss how great she feels since choosing to ditch animal "products," her fave vegan food, and more! Check out her behind-the-scenes vid:
"I THINK THAT IF EVERYONE KNEW HOW MEAT AND DAIRY WAS BEING PRODUCED, THEY WOULDN'T EAT IT." –SARAH JEFFERY
Consuming meat, eggs, and milk and wearing animal skins is extremely harmful to your health, the environment, and the billions of animals tortured and killed in slaughterhouses every year.
Factory Farms = Living Nightmare
On factory farms, animals such as cows, pigs, and chickens are forced to live in cramped, filthy conditions, which causes a huge increase in disease and pollution. These animals lead extremely miserable lives, and they often endure beatings and other abuse until they're slaughtered. To maximize profits, many animals are force-fed drugs and are genetically manipulated to make them grow unnaturally fast.
It's standard practice for farmers to punch holes in their ears, cut off their tails, or castrate them with no painkillers whatsoever, which cause them to have severe health problems such as heart attacks and crippled legs.
Do you want to be a part of this cycle of suffering? We didn't think so.
Try Vegan
Simply put, going vegan is the most compassionate thing you can do for animals—plus, it feels so good! Going vegan can help clear up your acne, boost your energy levels, and improve your overall health. Going vegan also helps the environment, and there are endless vegan food options available at stores and restaurants that make eating compassionately super-delish.
"GOING VEGAN WAS THE BEST CHOICE I COULD HAVE MADE BECAUSE I'VE LEARNED SO MUCH ABOUT WHAT YOU CAN DO TO HELP ANIMALS." –SARAH JEFFERY
We've admired Sarah for the longest time, and we're so excited about her commitment to helping animals. Like her, you can be an angel for animals and save over 100 animals a year! Check out PETA's Guide to Going Vegan. From scrumptious breakfast options to tasty midnight snacks, we've got you covered.