When Chris Pérez sees a dog left in a hot car, he takes action, even if it means using the guitar that made him famous—the same one he wrote music and performed with as the lead guitarist for Selena y Los Dinos—to smash a window.
"When I hear about a dog [who] gets left in a car, it's really upsetting. It's sad," Pérez says. So he's teamed up with PETA to remind music fans that beats should be hot—dogs should not.
"[I]t only takes a few minutes, if that, for it to become unimaginably hot inside the vehicle," he said in a behind-the-scenes video during his photoshoot. "But it's easily preventable if you just take the right measures and take [the dogs] with you, or you can just leave them at home."
On a 70-degree day, the temperature inside a parked car can soar to 99 degrees in 20 minutes, and on a 90-degree day, the interior temperature can reach as high as 109 degrees in just 10 minutes. Parking in the shade and rolling the windows down a bit have little impact on the temperature. Animals can sustain brain damage or even die from heatstroke in only 15 minutes, so leaving a dog in the car for "just for a minute" is too long.
And that's not the only message Pérez wants to serenade fans with. He's also urging them to adopt, not shop. "I think it's a great thing to do, to adopt. I'm so proud of my daughter for doing it herself, and I would definitely do it as well," he said. "When you buy a dog from a breeder or a store, that's actually a dog in a shelter losing [an] opportunity for life."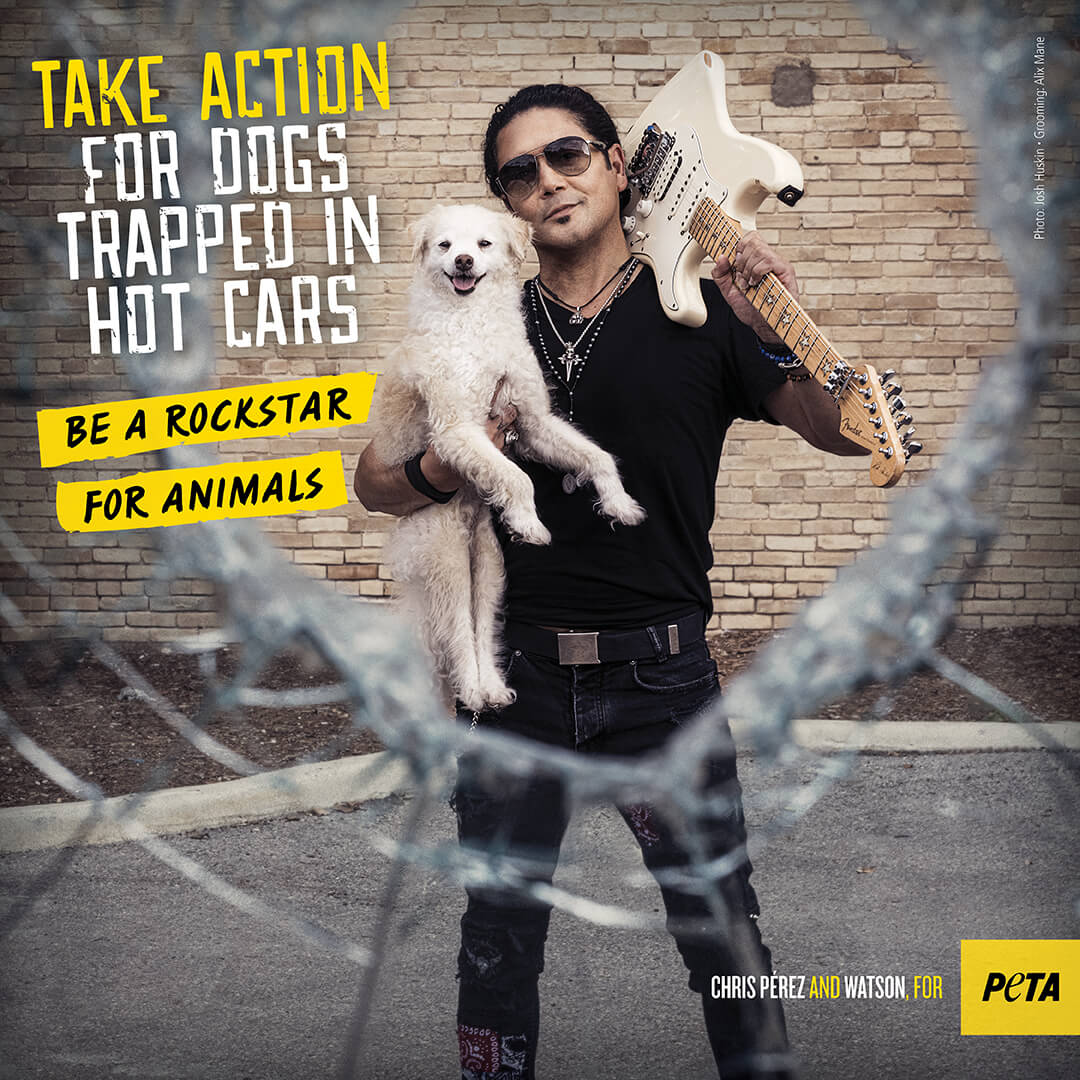 You Can Help Dogs Trapped in Hot Cars!
Always adopt when you're ready to add animal companions to your family, have them spayed or neutered, keep them safe indoors, and never leave them alone in the car.
If you see a dog trapped inside a car, follow Pérez's example and take action! Jot down the car's make, model, color, and license plate number, and have the owner paged in the nearest buildings while someone else keeps an eye on the dog. If you can't locate the owner, call humane authorities or the police.
If the dog appears to be in imminent danger and help has not arrived, find a witness who will back up your assessment, and, like Pérez, do whatever you must to save the dog's life. Get the animal into the shade and provide water while you wait for authorities to arrive. Most states have enacted laws that specifically protect individuals who rescue an animal or a child trapped in a hot car, and law enforcement looks kindly on good Samaritans.
Car windows are replaceable. Dogs are not.
Sign Up for PETA News (English)