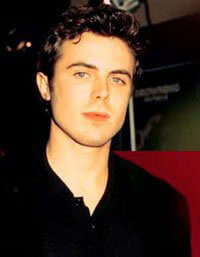 Casey Affleck
has received critical acclaim for films such as
The Assassination of Jesse James by the Coward Robert Ford
,
Gone Baby Gone
, and
Ocean's 11
,
12
,
and
13
. But did you know that one of his most important roles was banned from TV networks?
Casey took aim at the meat industry in a PETA public service announcement (PSA) by exposing its abuse of animals, but television networks refused to air it. A toned-down version of the PSA was created just to get it on the air.
In both versions of the PSA, Affleck shares his reasons for going vegan: "When people ask me why I don't eat meat or any other animal products, I say, 'Because they are unhealthy and they are the product of a violent and inhumane industry.'" Casey doesn't mince words about how animals suffer in factory farms and slaughterhouses: "Chickens, cows, and pigs in factory farms spend their whole lives in filthy, cramped conditions, only to die a prolonged and painful death."
Casey urges his fans to avoid meat—which he aptly calls "poison"—not only because it is the product of a cruel industry but also because it is a health nightmare, "proven to contribute to heart disease and cancer."
Casey wanted to show his fans exactly what happens behind the scenes of the meat industry—images that most people never see. However, when the networks wouldn't air the whole truth, Casey and PETA agreed to make a version of the same PSA with softer, toned-down images that the networks would agree to air.
What You Can Do
Casey says, "All the videos that the wonderful people at PETA make that I see online and on TV resonate with me each and every time I watch them." He made his video with the original images because he wanted others to get a glimpse of what goes on in factory farms.
It's easy to improve your health and help animals, like Casey Affleck does. Take PETA's Pledge to Be Veg for 30 Days, and we'll e-mail you our tips on the best places to eat, our favorite recipes, the tastiest animal-friendly snacks, and the most delicious vegetarian convenience food.
Interested in what other celebrities, such as Paul McCartney and Alicia Silverstone, have to say about vegetarianism? Check out PETA's veggie testimonial site.