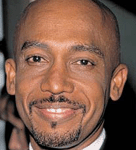 As circuses tour the country this summer, the Emmy Award-winning host of The Montel Williams Show is speaking out against the use of animals in entertainment. In an exclusive interview with PETA, Montel has some strong words about the cruelty that comes with any animal circus.
PETA: How do you feel about circuses that use animals?
Montel: I think that now that we are seeing multimedia types of productions with videos and pictures and human beings performing the acts that animals used to perform, such as in Cirque du Soleil and other traveling troops, there is no need to parade animals around anymore in cages for personal gratification.
PETA: A growing number of cities are restricting or banning the use of animals in entertainment. Do you think this is a good idea?
Montel: I think it's a wonderful idea and I think that it is about time. As I've said often, at the end of the day, almost every religion has a basic tenet in it about being judged by what you do for the least of us. It took us all to get here and it will take us all to get out of here, so we may as well protect the least of us and that includes the animals, who don't have a voice.
PETA: Some people think going to the circus is the only way to see and learn about wild animals, but in the wild bears don't ride bicycles, tigers don't jump through fiery hoops, and elephants don't stand upright on their hind legs. How would you explain to someone why it's important to respect animals in their native habitat and not in the circus?
Montel: Very clearly, we can find that some of the most entertaining and rapidly growing channels are the Discovery Channel and Animal Planet. Most children today watch this programming not only because those are the alternatives that parents have chosen for them but also because the realism is fascinating. They enjoy being introduced to animals in their natural habitat, and the added benefit is that they get to see animals react in ways that they would never be able to see in a circus act. People are beginning to realize that it's important that we see animals in a natural state—but through film, through video, through documentaries, at wildlife preserves, and through other humanely protected ways, which don't involve … performing for us.
PETA wants people to know that circus trainers use whips, muzzles, electric prods, and bullhooks to force the wild animals to perform stressful acts like riding bicycles and jumping through fire. In their natural homes, these animals would be free to walk and run, choose lifetime companions, and raise their families. The circus pushes animals to perform night after night for 48 to 50 weeks every year. Between acts, elephants are kept chained in railroad cars, and bears and tigers are "stored" in cages barely large enough for them to turn around in.
PETA encourages parents to take children to cruelty-free circuses, such as Cirque du Soleil and the New Pickle Circus, whose acts feature only willing, paid human performers. A complete list of animal-free circuses is available.