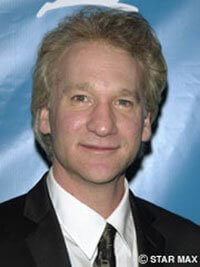 You know him as the talented host of HBO's Real Time With Bill Maher. He's irreverent, exceedingly smart, and one of the funniest TV personalities and comics ever—but one thing that Bill Maher doesn't find humorous is animal abuse.
That's why Maher, who resides in California with his two rescued dogs, came to the defense of dogs not as fortunate as his own when Senate Bill 1578 was being considered in his state. The bill banned the practice of chaining as the primary means of confinement for dogs in the state of California.
Maher wrote to the California Senate's Business, Professions, and Economic Development Committee urging it to push through Senate Bill 1578. To the joy of animal advocates, the bill did pass. Now, not only is chaining dogs restricted in California, the bill has also set a nationwide standard of care for "man's best friend."
"Senate Bill 1578 would give animal control officers a much-needed tool to help protect our canine companions from long-term neglect and our communities from dog attacks, a problem that has engendered increasing public concern in recent years," wrote Maher about the bill, which was later signed into law.
Click here to read Bill Maher's letter to the California Senate's Business, Professions, and Economic Development Committee.
Help a Neighborhood Backyard Dog
Hand out PETA's literature about chained dogs to folks who may not be aware of the cruelty or danger involved in chaining.
Many dogs have had their whole lives gradually changed, all because someone cared enough to intervene, and some lucky dogs have eventually been given to those who intervened.
Others have been saved by anti-chaining legislation.
Chaining dogs is also prohibited in communities such as Little Rock, Arkansas; Fairhope, Alabama; and Big Spring, Texas. Find out how to end chaining in your community, and join Maher in taking a stand against cruelty to dogs.

Get the message out!
Order a "Friends Don't Chain Friends" bumper sticker.
You can improve the lives of dogs and cats suffering from cruelty and neglect.