New decade, new favorite meal: ramen. We're talking about vegan ramen, of course. If you're as big a fan of the Japanese noodle soup as we are (and as opposed to eating pigs, chickens, fish, and eggs), pay attention: We've scoured the U.S. and Canada preparing a tantalizing list of what we consider to be the best vegan ramen dishes. In no particular order, here are our picks:
SPICY RAMEN
Other eateries might serve their ramen bowls with an egg stolen from a hen, but not Ramen Hood. This all-vegan Los Angeles spot—located in the Grand Central Market—tops off its bowls with a vegan egg.
The "white" of the egg is "locally made, GMO-free soy milk, seasoned with salt and pepper and gelled with agar (a seaweed extract). The 'yolk' is a combination of nutritional yeast, [black] salt and sodium alginate," according to Ramen Hood's website.
For tons of flavor, opt for the Spicy Ramen (with sunflower seed broth, spicy paste, king oyster mushroom, bean sprout, scallions, chili threads, and nori), and add a vegan egg to seal the deal.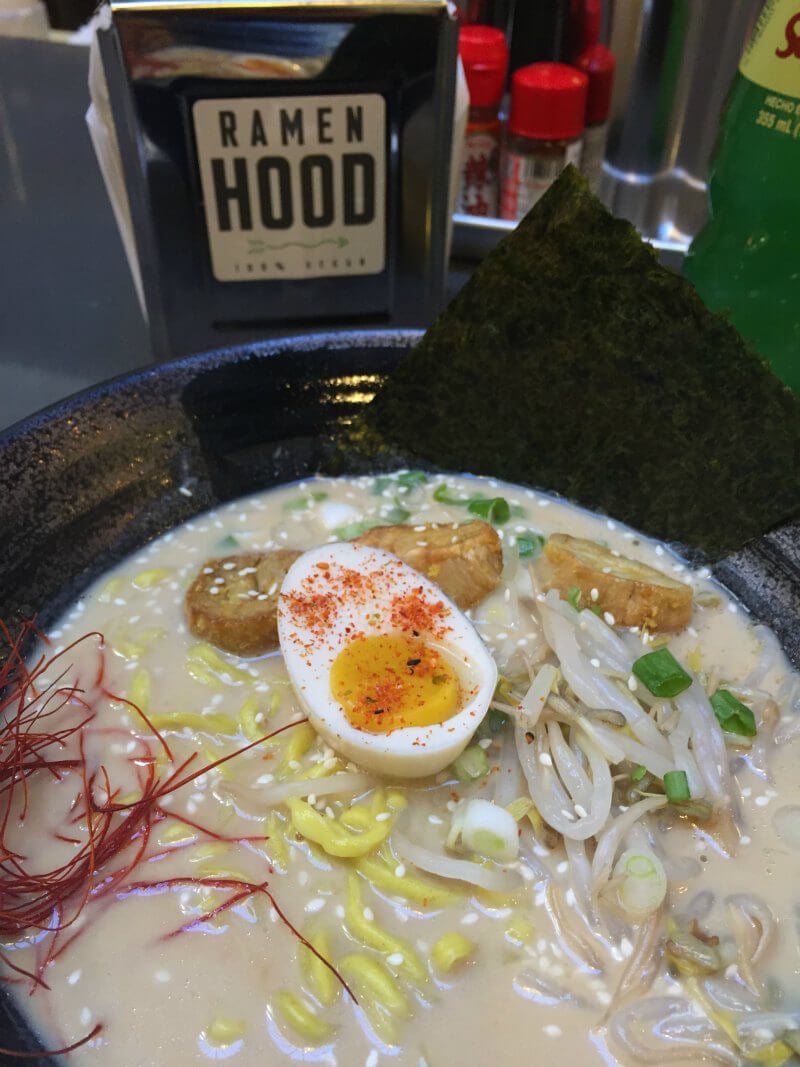 SPICY GARLIC MISO RAMEN
We know, we know—visiting San Francisco's Shizen and ordering something that isn't vegan sushi seems senseless. But once you try the eatery's Spicy Garlic Miso Ramen, you'll understand. The noodle soup includes bean curd chashu, bamboo shoots, tempura mushroom, grilled mushrooms, nori, and green onion (along with plenty of garlic and spice, of course). Yum!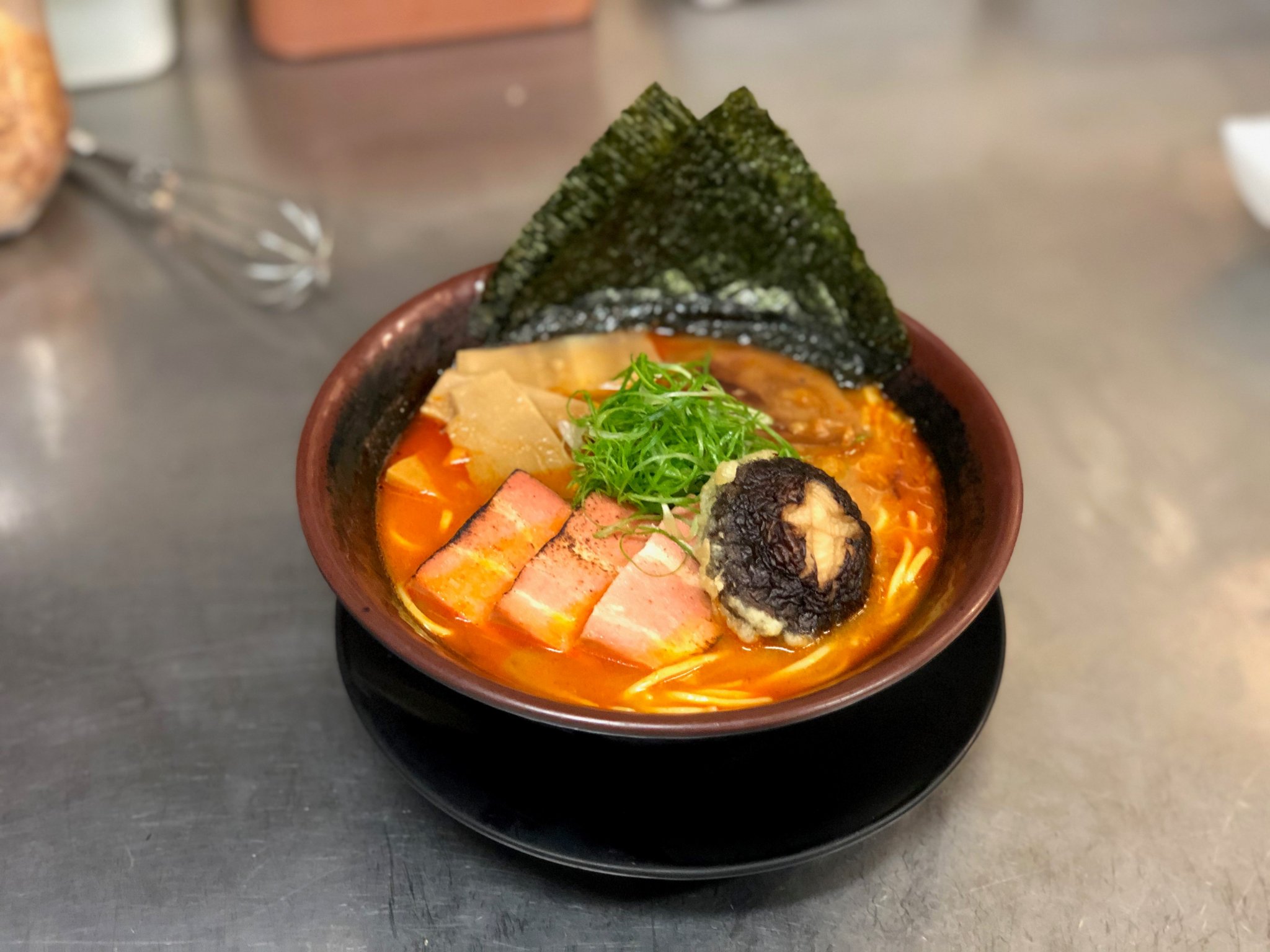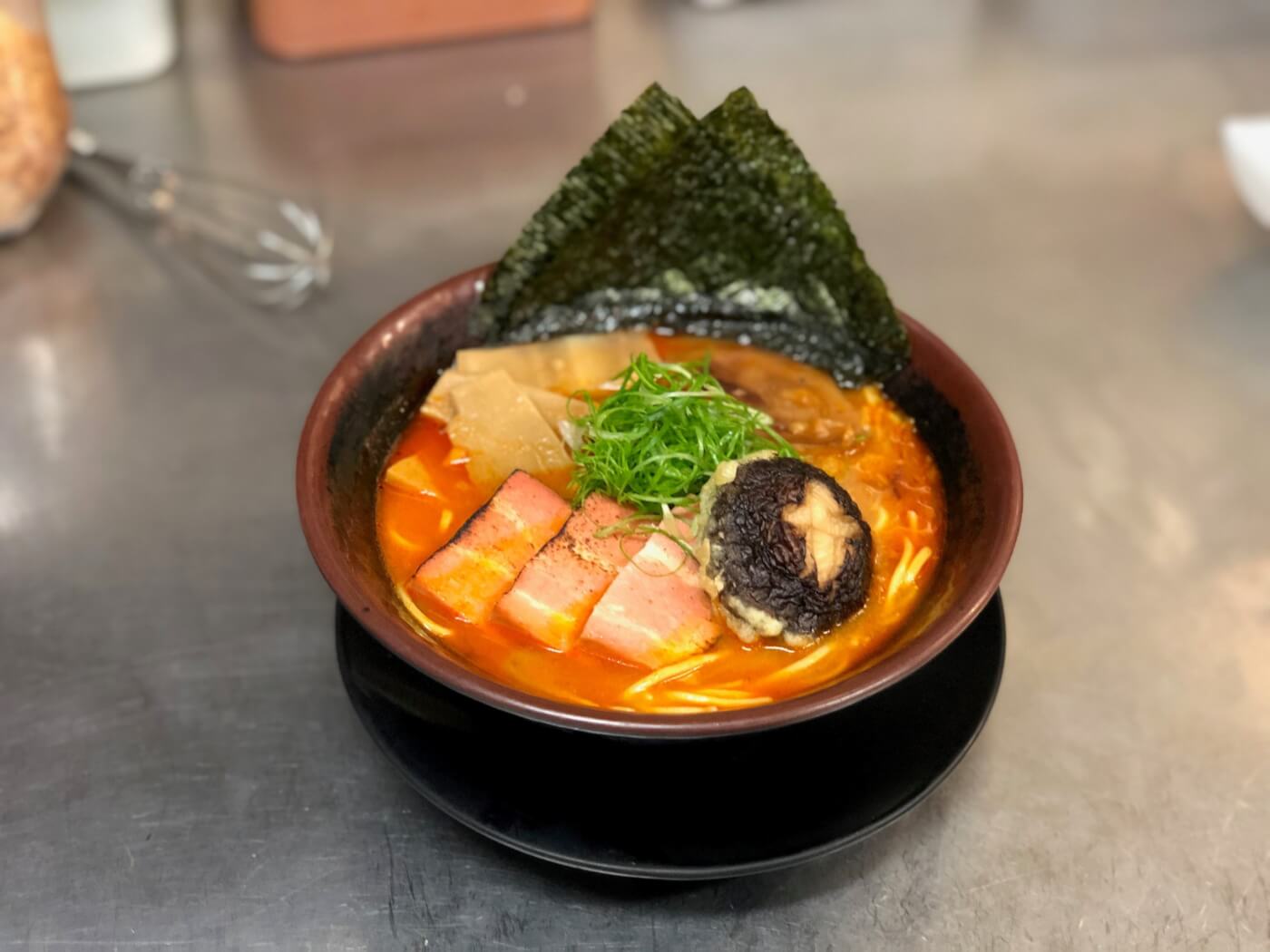 © Shizen
NEGI-GOMA ATSUAGE RAMEN
There are two Vancouver locations (Kitsilano and Robson), so you're never far from Ramen Danbo's tasty Negi-goma Atsuage Ramen bowl. The menu option features white sesame oil, roasted sesame seeds, and fresh scallions as well as six slices of mouthwatering thick-fried tofu.
VEGAN SHOYU RAMEN
New York's Ramen Ishida puts a vegan spin on traditional shoyu ramen, and it's divine. The dish includes thin flour noodles, seasonal vegetables, konbu, shiitake, and truffles. The eatery also offers vegan miso as well as multiple vegan appetizers.
MISO RAMEN
Speaking of miso ramen, The Crazy Noodle in Memphis serves up a drool-worthy bowl of its own. Think tofu, spinach, onions, carrots, zucchini, and cabbage, all simmered in bean paste broth. The veggie dumplings are 🔥, too.
VEGAN SHIO RAMEN
DOMU in Orlando
DOMU offers a vegan shio ramen bowl that delivers all the flavor and none of the cruelty. The dish has vegetable broth, menma, scallions, kikurage, torched tomato, fried tofu, Japanese spices, and lime zest. If you're in Florida, you can visit one of the two Orlando locations or the Jacksonville location.
VEGGIE MISO RAMEN
If you don't immediately think "vegan ramen" when you think "Austin, Texas," Daruma Ramen will change that. The restaurant's Veggie Miso Ramen will keep you coming back for more. (Pro tip: Add avocado to take your bowl to the next level!)
YASAI RAMEN
The Yasai Ramen at this Oklahoma City gem has all the essentials, starting with vegetable broth made from Napa cabbage, carrots, mushrooms, apples, celery, onions, and other aromatic vegetables. The dish is seasoned with soy sauce and sea salt, then topped with fried tofu, sautéed oyster mushrooms, roasted tomato, green onions, and fried shallots. You can even opt for gluten-free noodles.
"Drop a chili bomb in this hot bowl of noods and thank us later!" the eatery recommends.
TOMATO-CURRY RAMEN
Hatoba in Washington D.C.
The Tomato-Curry Ramen from D.C. hot spot Hatoba is full of—you guessed it—tomato and curry. (Drool!) This vegan ramen dish with a miso base has a slight kick to it, without being too spicy. Add a chili water "spice bomb" for extra heat.
VEGETARIAN TANTAN MEN RAMEN
The Vegetarian Tantan Men Ramen from Honolulu's Junpuu is actually vegan, and it's flawless. The broth is made using house-roasted sesame seeds, almonds, and peanuts as well as seasonal veggies. The dish features seasonal greens and bamboo shoots and can be ordered gluten-free.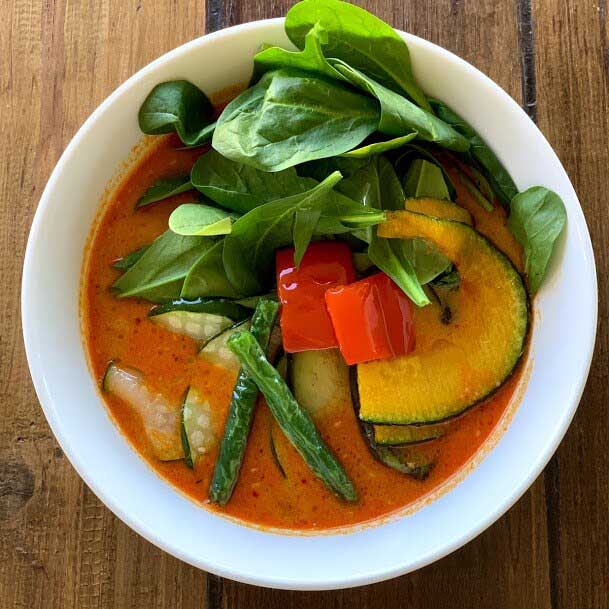 *****
Not in Honolulu or any of the other locations mentioned above? Don't fret! There are loads of vegan instant ramen brands to choose from that are sure to hit the spot. Thanks to Nissin, Thai Kitchen, Dr. McDougall's, and others, enjoying a savory bowl of vegan noodle soup at home has never been easier. Get ideas for brands to shop for and what to do with them.
Vegan Ramen Is Just the Beginning 🍜
Click on the link below to learn more about living vegan and saving animals.