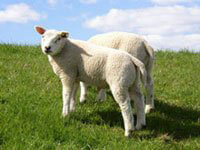 Soon after the Australian government acknowledged the abuses of Australian animals in a Cairo slaughterhouse and suspended the export trade to Egypt, PETA released additional footage from the investigation of live Australian sheep as they were being mishandled and crudely slaughtered in Oman, Kuwait, and Egypt. As a result of the release of this footage, the Australian government sent a delegation to the Middle East to investigate the abuses inflicted on Australian sheep there. PETA sent the undercover footage to the ministers of agriculture in these three countries, along with a plea to accept only chilled meat from Australia.
Activists within Australia have met with key government figures who reportedly have been deeply disturbed by the undercover footage and gained a better understanding of the cruel treatment that Australian sheep face once they arrive in the Middle East.
Even the Australian Veterinary Association, which has traditionally supported the live-export trade, has publicly declared that it will withdraw its support for the trade unless it sees significant improvements in animal welfare. If you've yet to act on this important issue, now is the time! Please write to the Australian government today to demand an end to the cruel live-export industry.
Further Abuses of Australian Animals Exposed in Gruesome Investigation
In January 2006, in conjunction with Animals Australia, PETA conducted an undercover investigation in the Middle East and North Africa to expose the handling and slaughter conditions endured by sheep who are exported to these destinations from Australia. Contrary to the claims of the Australian government and live-export industry, we found no improvement in the way that animals are housed, handled, and killed in the Middle East.
Australian sheep and cattle are kicked, beaten, and dragged off boats by their ears and legs and are left to die in barren feedlots. They are bound up and thrown into the trunks of cars, and they are slaughtered in prolonged and cruel ways that are illegal in the United States, Europe, and Australia. Click here to help stop the abuse of sheep in the wool industry.
Australia's most popular investigative current-affairs program, 60 Minutes, aired an extended feature exposing the industry's lies and highlighting the continued abuses that animals endure. In response to the massive outcry caused by the exposé, the Australian government suspended live-animal exports to Egypt.
PETA's investigative footage was reviewed by one of the world's foremost experts in humane slaughter, Dr. Temple Grandin, who was horrified by the animal abuses documented, stating, "The abusive treatment shown unquestionably must cause great suffering, pain and distress." Read her full report here.
Please demand that the Australian government bring an immediate end to the cruel live-export trade and encourage your friends to do the same:
The Honorable Barnaby Joyce
Minister for Agriculture, Fisheries and Forestry
Australian Government Department of Agriculture
GPO Box 858
Canberra ACT 2601
http://www.daff.gov.au/general-inquiries
His Excellency Tony Abbott
Prime Minister of Australia
Parliament House
Canberra, ACT 2600
http://www.PM.gov.au/contact-your-pm
Please also urge the live-export industry to conduct an immediate review of its practices, both on ships and in destination countries:
Scott Hansen
General Manager Corporate Communications and Livestock Exports
PO Box 991
North Sydney NSW 2059
Phone: 02 9463 9333
Fax: 02 9463 9208
[email protected]