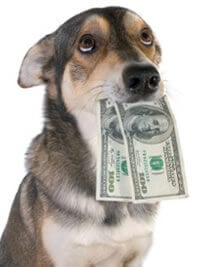 10 Easy Ways to Fundraise for PETA
Looking for some quick and fun ways to help support our vital work for animals? Why not plan a fundraiser for PETA? Here are some great ideas for getting the most from your fundraising efforts.
Create your own fundraising page. You can then easily e-mail it to your friends and family or spread the word on Facebook, Twitter, and other social-networking sites!
Celebrate your birthday, wedding, graduation, or other special day by helping animals through Facebook Causes, or create your own event page here! Ask your loved ones to donate to your fundraising page in lieu of (or in addition to) a gift.
Give up something. Ask people to give up their morning soy latte for a week or their lunch for a day and donate the money that they save to your fundraising page.
Participate in a race, triathlon, walk, or other sporting event. Create a fundraising page and ask friends to support you with a donation—or join the PETA Pack team and run for animals!
Organize a vegan bake sale, or put up a lemonade and vegan cookie stand to benefit PETA.
Host a fundraising party. Throw a dinner party, potluck, popcorn-and-movie night, or vegan food–tasting event (vegan "milk" and cookie tasting, vegan "meat" tasting, vegan "cheese" tasting). Ask people to give a minimum donation to attend.
Organize a raffle for your event. The two keys to a successful raffle are good prizes and lots of ticket sellers. Ask local shops and businesses to donate items to raffle off at your event, or have a 50/50 raffle in which the winner receives half the money that you collect through ticket sales. Please make sure your raffle complies with all applicable state laws.
Organize a shopping party fundraiser. Ask a local store, vegan restaurant or bakery, or other business to donate a portion of its proceeds to PETA on the day of your event.
Hold a cell phone, electronics, or clothing drive. Then hold a garage sale or sell the donated items on eBay's Giving Works site.
Miscellaneous ideas. Place donation cans in stores, do something seasonal (such as Christmas caroling for donations or selling heart-shaped vegan cookies on Valentine's Day), or have a car wash … use your imagination!
For more fundraising ideas or to get help planning your own event, please contact PETA at 510-763-7407 or [email protected].
Looking for more ways to get involved in animals rights activism? Email [email protected].