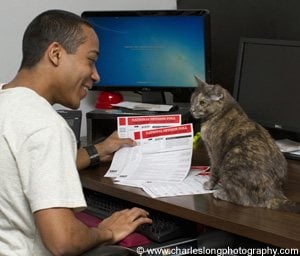 Far and away, the primary benefit of being a PETA member is the satisfaction of knowing that you are helping to save animals' lives through your financial support. You help us expose hidden cruelty in animal testing laboratories; bring about historic changes for animals condemned by the meat, egg, and dairy industries; convince designers and retailers to ditch cruel fashion; and otherwise play a critical role in PETA's work to stop animal suffering. PETA members like you are the driving force behind every one of our groundbreaking campaigns for animals.
However, the benefits of being a PETA member go beyond your vital support of this work. Members have unique access to a wealth of resources that can help them live more compassionate lives and become better advocates for animals:
PETA Global: Members receive a free year's subscription to our lively magazine PETA Global, which is packed full of the latest news, delicious vegan recipes, and easy tips on how to stop animal suffering in your own community.
Member discount: You're entitled to a special member discount on PETA merchandise and cruelty-free products sold through PETA's catalog. Use promotion code MBR29 for your 10 percent discount!
PETA's Action Team: It's easy to keep up with new ways to help animals in your own community by joining PETA's Action Team. There is no additional cost, and members are alerted to actions and local issues.
Vegan recipes: We send you several recipes throughout the year. Or visit our treasure trove of vegan recipes online, and don't forget that you always have access to our online vegetarian/vegan starter kit!
Cruelty-free search tool: You can be a compassionate shopper by using PETA's online database to search by company name or product type and learn which products are cruelty-free.
Member-only updates: Members receive exclusive member-only updates on PETA's latest victories through our monthly e-mail newsletter Progress for Animals.
Breaking news: PETA members are often among the first to learn about important new undercover investigations and victories for animals that were won, thanks to their support.
Mobile text alerts: Members who subscribe to PETA's mobile text program can stay informed on PETA action alerts and important news about animal rights.
PETA Member Advantage Program: You receive access to the PETA Member Advantage Program website, where you can enjoy the guaranteed lowest rates on hotels, cruises, tour packages, sports travel packages, resort vacations, and more.
Special offers: Members receive discounts and special offers from our supporting partners and members of the PETA Business Friends program.
PETA mobile app: Members can help animals with the touch of a finger with PETA's iPhone app.
Membership card: Every January, you will receive an updated personalized PETA membership card that you can carry as a constant reminder of your commitment to helping animals.
"Rescued" calendar: Members receive PETA's exclusive "Rescued" calendar—a striking, full-size calendar perfect for your home or office. Each month features a heartwarming story of an animal who was rescued, thanks to your support.
Access to PETA Foundation's Membership Services Department: As a PETA member, you have direct access to the entire Membership Services Department. They are ready to help answer any question that you might have, help you navigate PETA's online resources, update your record, or fill you in on a current campaign. They can be reached at 757-622-PETA (7382), Monday through Friday from 8:30 a.m. to 6 p.m. ET, or at

[email protected]

.