Bearing video footage showing a noisy human crowd surrounding a box of infant bear cubs at a recent "Baby Animal Days" event held at the American West Heritage Center in Utah, PETA fired off a letter this morning to the U.S. Department of Agriculture (USDA). We're urging the agency to conduct an investigation into Yellowstone Bear World (YBW)—the Idaho-based roadside zoo that supplied the exploited bear cubs used at the event—for apparent violations of the federal Animal Welfare Act (AWA). We've also alerted Utah Division of Wildlife Resources officials to our concerns, as Utah law requires that animals in the state be handled in accordance with USDA guidelines.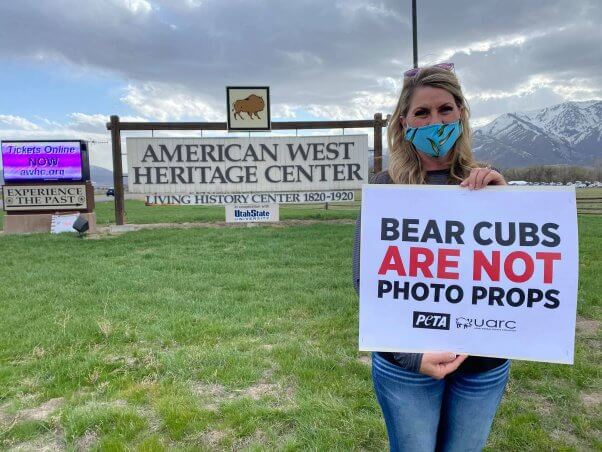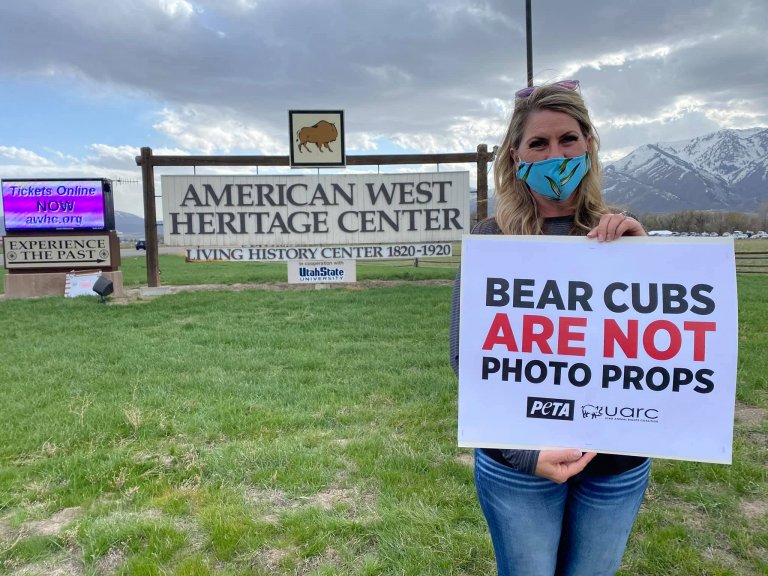 What the Bear Cubs Endured
The AWA prohibits causing animals "unnecessary discomfort," yet Yellowstone Bear World displayed the motherless cubs for four days in a box that, while being exhibited to the paying public, lacked a water bowl, bedding, soft substrate, or any shelter or quiet retreat from the cacophony of the crowd.
The noise of the spectators is stressful by itself—but it can also prevent the cubs from sleeping, which further compromises their physical and psychological health. One cub even appeared to have thinning hair, which can be caused by parasites or inadequate nutrition and exacerbated by stress.
Animals Aren't Ours to Use for Entertainment
These baby bears should still be sleeping in comfort in their mothers' care. Authorities must hold YBW accountable for using these stressed-out cubs as a sideshow attraction with no apparent regard for their needs.
Every year, YBW breeds bear cubs and separates them from their mothers at just a few weeks old so that the animals can be used in events. In nature, cubs would remain with their mothers for at least two years.
When cubs have become too large for public contact, YBW has shipped them to other roadside zoos or exotic-animal wholesale dealers, including the notorious "Joe Exotic" of Tiger King infamy. Over the last decade, YBW sent at least 65 cubs and 19 adult bears to Gregg Woody, an animal broker in Illinois known to send bears to slaughter.
What You Can Do for Animals
Vote with your feet: Stay away from roadside zoos and any other seedy venue that encourages dangerous hands-on contact with wild animals. If animals are being exploited at an event, don't support it. Tell your friends, family members, and social media followers not to, either.
Want to Do More?
Please join with PETA and thousands of compassionate people who have already called on Yellowstone Bear World to stop breeding bears and to end cub photo ops and other public encounters. It takes only a minute using your phone or computer, so what are you waiting for?