A young woman who lost all the toes on one of her feet after she had a "fish pedicure" is sharing her story and photos to warn other people about the dangers of "fish spas."
Thai fish pedicures aren't as safe as they seem https://t.co/Op7TCTYpuk

— Metro (@MetroUK) September 13, 2018
Victoria Curthoys thought that the "fish spa" she had gone to in Thailand was sanitary. "I thought nothing of it as I'd watched the owner set up the system and it looked very clean," she said. "[B]ut how wrong I was." When she returned home to Australia from her trip, she was plagued by fevers and constant sickness that doctors couldn't diagnose. Finally, they determined the cause: osteomyelitis, a bone infection caused by bacteria in the tank water of the spa.
"By the time they'd realised what it was, my entire toe bone had been eaten away and I'd been suffering from sickness the whole time," Victoria recalls. Over the next five years, she lost all the toes on her right foot to the bone disease. Fortunately, she's now healthy and shares pictures of her feet to encourage body positivity and to protect other people from "fish pedicures."
Fish are living beings who can't be sanitized between customers. And they don't eat dead human skin because it's appealing to them—they eat it because they're starved. Read on for more reasons to say, "No, tanks," to fish pedicures.
The following was originally posted on July 6, 2018:
If you attempt to have fish bite away your dead skin, you may lose more than you bargained for. As reported by CNN, at least one woman lost her toenails after a fish pedicure, and doctors think the same issue could have affected many others.
Woman Lost Her Toenails After Fish Pedicure, Say Doctors https://t.co/dtEnDSZfGs

— CBS Philly (@CBSPhilly) July 4, 2018
The patient didn't initially think that the fish pedicure could be the reason why six of her toenails had fallen off, as the nails didn't start to shed until months after the service. But Dr. Shari R. Lipner, assistant professor of dermatology and director of the nail division at Weill Cornell Medicine, who authored a report on the patient and condition for the journal JAMA Dermatology, believes that the trauma to the woman's nails was caused by the fish's bites.
"I think that this is probably more common than we think. We don't see the [nail] shedding until months after the event, so I think it's hard for patients and physicians—especially if they're not even aware that fish pedicures can do this—to make that connection." —Dr. Shari R. Lipner
A woman's toenails fell off due to a fish pedicure she'd had months prior, according to a new report https://t.co/y73yJ3BGIi pic.twitter.com/mrcA60AC3d

— CNN (@CNN) July 5, 2018
So we can add another entry to the list of reasons not to dunk your feet into a tub of Garra rufa fish. Aside from potential nail loss, there's also the risk of infection. While normal pedicure supplies are sterilized between customers to prevent the transmission of bacteria, there's no way to sterilize a living animal.
And the fish don't eat dead skin because it's appetizing to them. They do it because they're so starved that they'll try to eat dead human skin cells for sustenance. Anyone can purchase Garra rufa by mail order, and they're shipped in water-filled plastic bags. Many die in transit. Upon arrival, they're typically dumped into tanks and fed only dead skin. Numerous people plunge their feet into the tanks—in which the fish live and defecate—every day, making them breeding grounds for bacteria. Because of the inherent cruelty and the health risks, fish pedicures are banned in many parts of the U.S., Canada, and Europe.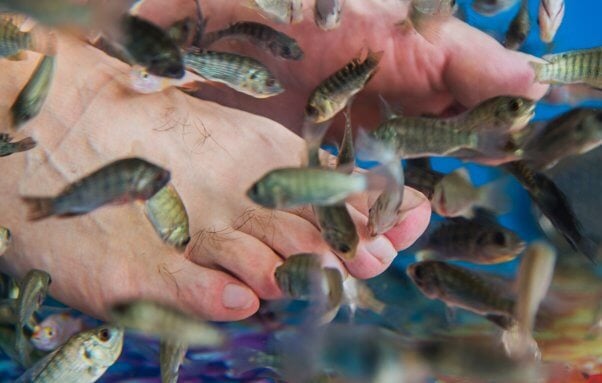 © iStock.com/baona
Unlike human nail technicians, fish have no way of knowing which areas you'd like them to focus on, so customers often get unsatisfactory results, with bumpy, uneven skin and areas bitten deep enough to cause bleeding.
If you want an exfoliating pedicure, you need a pumice stone, not a fish.