Forget black licorice and candy corn—PETA's got a real treat for you this Halloween: Our lucky "Win It" Wednesday winner will receive one bag of Sjaak's Organic Chocolates dark chocolate bites with peanut butter and one bag of Sjaak's dark chocolate bites with a blast of orange flavor. They're to die for—but no animals had to: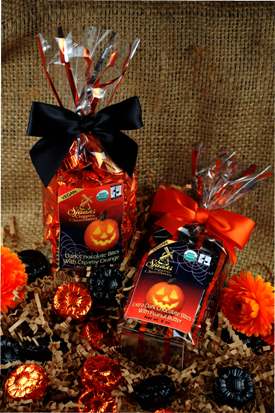 To win, just say "trick or treat" … and then tell us where the scariest place on Earth is, be it a Butterball factory farm, a Professional Laboratory and Research Services (PLRS) laboratory, a SeaWorld abusement park, or any other place where animals suffer. All these places are terrifying, but the winner will be the person who best explains why the facility should give us all nightmares.
The contest ends October 25, and the winner will be chosen on October 27. Be sure to read our privacy policy and terms and conditions, as you're agreeing to both by commenting
If you don't win, you can always try banging on your neighbor's door and begging for some gourmet vegan chocolates (threatening to T.P. the house may or may not help). Or you can just order them from the PETA Catalog.
Happy Halloween!
Written by Heather Moore